DCLM Daily Manna 12 March, 2018 by Pastor Kumuyi
Topic: From Above Only [DCLM Daily Manna Monday March 12th, 2018]
Text: Psalm 75:1-10 (KJV)
Key Verse: "For promotion cometh neither from the east, nor from the west, nor from the south. But God is the judge: he putteth down one, and setteth up another" (Psalm 75:6,7).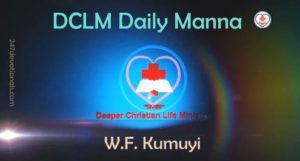 MESSAGE: DCLM Daily Manna 12 March, 2018 by Pastor Kumuyi
A certain courthouse in Ohio stands in a unique location. Raindrops that fall on the north side of the building go into Lake Ontario and the gulf of St. Lawrence, while those falling on the south side go into the Mississipi River and the Gulf of Mexico. At precisely the point of the peak of the roof, just a gentle puff of wind can determine the destiny of many raindrops. It will make a difference of more than 2,000 miles as to the final destination.
Asaph was telling people to stop acts of wickedness in hopes of getting to the top. He regarded all the dubious dealings to outwit others as acts of foolishness, for promotion comes only from God and not because one is well connected. Trying to force the timeline of God could end in destruction and eternal damnation.
People go into unimaginable lengths in their efforts to grab things for themselves without any recourse to God. Because of the scanty available positions, there is a great scramble to get our own share of the cake. Sometimes, the competition becomes unhealthy with some going to the extent of assassinating their perceived adversaries to the detriment of their own souls. DCLM Daily Manna 12 March, 2018 by Pastor Kumuyi
Support the Good work on this Blog Donate in $ God Bless you
[jetpack_subscription_form title="GET FREE UPDDATE VIA EMAIL" subscribe_text="JOIN OTHER CHRISTIANS GET UPDATE BY EMAIL" subscribe_button="Sign Me Up" show_subscribers_total="1"]
The fact is, you either have faith in God and His promises for the security, success, significance, and win; or you have faith in the material things and their power to deliver and probably lose your soul in the process. Our text reveals that destinies are fixed by God and not man. Even when we realise our destinies require a change, it must be done through prayers, like Jabez who turned his bitter destiny into sweetness through importunate prayer – not through ungodly means. It is better to patiently wait on God until our time comes.
Thought For The Day: A little patience is what it takes to reach the peak of God's plan for us.
Bible Reading in a Year: Deuteronomy 3-4
"If you missed yesterday devotional, please click to read DCLM Daily Manna HERE
DCLM Daily Manna was written by Pastor William Folorunso Kumuyi; is the founder and General Superintendent of the Deeper Life Bible Church situated at KM 42 on the busy Lagos-Ibadan Expressway, Nigeria.
DCLM Daily Manna 12 March, 2018 by Pastor Kumuyi