DCLM Daily Manna 11 March 2018 by Pastor Kumuyi
Topic: A Journey Of Faith [DCLM Daily Manna Sunday March 11th, 2018]
Text: Joshua 3:1-13 (KJV)
Key Verse: "And they commanded the people, saying, When ye see the ark of the covenant of the LORD your God, and the priests the Levites bearing it, then ye shall remove from your place, and go after it" (Joshua 3:3).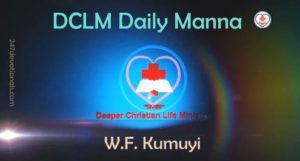 MESSAGE: DCLM Daily Manna 11 March 2018 by Pastor Kumuyi
The African impala can jump to a height of over 10 feet and cover a distance more than 30 feet, but could also be enclosed in any zoo with a 3- foot wall. These magnificent creatures will not jump if they cannot see where their feet will fall. Faith is the ability to trust and be freed from the flimsy enclosures of life that fear allows to entrap us.
Israel was to cross River Jordan into the Promised Land after years of meandering through the wilderness. With their plans based only on the promise of God to cut off the waters of the Jordan, it was therefore a journey of faith.
Support the Good work on this Blog Donate in $ God Bless you
[jetpack_subscription_form title="GET FREE UPDDATE VIA EMAIL" subscribe_text="JOIN OTHER CHRISTIANS GET UPDATE BY EMAIL" subscribe_button="Sign Me Up" show_subscribers_total="1"]
Looking at the battles that were fought in the Bible, there was so much reliance on divine protection without much emphasis on getting the services of expert mercenaries. It would appear laughable that one would rely on just a promise made by God to win under those conditions – but it worked. Israel defeated all the nations that came against them, but only failed when they disobeyed God's commandments. The laws of nature appeared to be set aside when they crossed two major rivers and numerous other obstacles to eventually make it to the Promised Land. DCLM Daily Manna 11 March 2018 by Pastor Kumuyi
The Christian journey is that of faith. To make it to the Promised Land of heaven, we need to sometimes close our eyes to science and the laws of nature, trusting God alone to take us through the many obstacles that present themselves on the way. It is impossible to pass through life without obstacles. Some of them could be long and challenging like the huge Jordan overflowing its banks. You may sometimes get to the river before the strategy to cross it comes out. Whatever happens, we must keep pressing on by faith.
Thought For The Day: Faith is believing the impossible and seeing the invisible.
Bible Reading in a Year: Deuteronomy 1-2 DCLM Daily Manna 11 March 2018 by Pastor Kumuyi
"If you missed yesterday devotional click to read DCLM Daily Manna HERE
DCLM Daily Manna was written by Pastor William Folorunso Kumuyi; is the founder and General Superintendent of the Deeper Life Bible Church situated at KM 42 on the busy Lagos-Ibadan Expressway, Nigeria.