Billy Graham's Daily 11 March 2018 Devotional
Topic: The Power of Speech [Billy Graham's Daily

Sunday

, March 11th, 2018]

Submit yourselves therefore to God . . . — James 4:7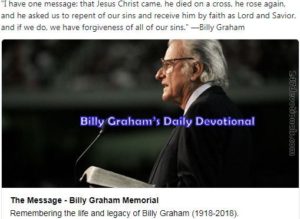 You have a tongue and a voice. These instruments of speech can be used destructively or employed constructively. You can use your tongue to slander, to gripe, to scold, to nag, and to quarrel; or you can bring it under the control of God's Spirit and make it an instrument of blessing and praise. The 20th-century version of James 3:3 says, "When we put bits into the horses' mouths to make them obey us, we control the rest of their bodies also." Just so, when we submit to the claims of Christ upon our lives, our untamed natures are brought under His control. We become meek, tamed, and "fit for the Master's service."
Support the Good work on this Blog Donate in $ God Bless you
[jetpack_subscription_form title="GET FREE UPDDATE VIA EMAIL" subscribe_text="JOIN OTHER CHRISTIANS GET UPDATE BY EMAIL" subscribe_button="Sign Me Up" show_subscribers_total="1"]
Prayer for the day: I would be under Your control, Lord Jesus Christ. Take away the pride that keeps me from complete submission.
Read previous Billy Graham's Daily Devotional HERE
Written by Billy Graham, Founder of Billy Graham Evangelistic Association(BGEA). BGEA exists to proclaim the Gospel of Jesus Christ by every effective means and to equip the church and others to do the same.