DCLM Daily Manna 10 March, 2018 by Pastor Kumuyi
Topic: The Road To Restoration [DCLM Daily Manna

Saturday

March 10th, 2018]
Text: Joel 2:20-29 (KJV)
Key Verse: "And I will restore to you the years that the locust hath eaten, the cankerworm, and the caterpiller, and the palmerworm, my great army which I sent among you" (Joel 2:25)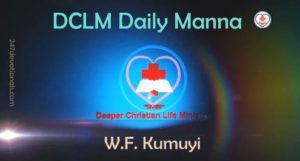 MESSAGE: DCLM Daily Manna 10 March, 2018 by Pastor Kumuyi
A respected Cleric in a message titled "A Call to National Rebirth through Righteousness," said: "We cannot continue to give national awards and chieftaincy titles to treasury looters and expect prayer alone to change our nation without repentance. The church, in any society, ought to be its moral bastion and church leaders its ethical conscience as they add prophetic voice to matters of State. They commend what is acceptable and condemn what is objectionable. Unfortunately, there is so much moral decay within the body of Christ today as seen in the overemphasis on wealth without wisdom, popularity without piety and health without holiness. The gospel has been turned into a means of making money and the church has been so commercialized that sometimes it is difficult to differentiate between a preacher and a businessman."
Support the Good work on this Blog Donate in $ God Bless you
[jetpack_subscription_form title="GET FREE UPDDATE VIA EMAIL" subscribe_text="JOIN OTHER CHRISTIANS GET UPDATE BY EMAIL" subscribe_button="Sign Me Up" show_subscribers_total="1"]
Israel, in our text was going through a pathetic situation; hence, Prophet Joel called for the congregation to be sanctified. The priests were to maintain a sober mood while asking God to spare the nation and not to give His people (His Heritage) unto reproach. It is after the repentance, the solemn assembly and sanctification of the people that the Lord will then be jealous for His land, pity His people, end the oppression of their imperial masters, revive the nation's agrarian economy, and restore peace and prosperity.
The condition for national rebirth is righteousness which exalts a nation and not prayer and fasting without repentance (2 Chronicles 7:14). Under the current economic recession which is affecting many nations with decline in food production, dwindling resources especially in the African continent, it is time to seek the Lord. To enjoy full restoration, confess your sins to the Lord, ask Him for forgiveness and exercise faith in Christ's substitutionary atonement.
Thought For The Day: Righteousness, not prayer and fasting exalts a nation.
Bible Reading in a Year: Numbers 35-36 – DCLM Daily Manna 10

March,

2018 by Pastor Kumuyi
"If you missed yesterday devotional click to read DCLM Daily Manna 9 March, 2018 by Pastor Kumuyi – Distressed''
DCLM Daily Manna was written by Pastor William Folorunso Kumuyi; is the founder and General Superintendent of the Deeper Life Bible Church situated at KM 42 on the busy Lagos-Ibadan Expressway, Nigeria. DCLM Daily Manna 10 March, 2018 by Pastor Kumuyi