David Oyedepo Winners' Chapel LIVE Service
David Oyedepo COVENANT DAY OF BUSINESS BREAKTHROUGHS SERVICE | 5TH JULY , 2020

The presence of God mounts up your wings with strength. Judges 6:14, God gave Gideon unusual might. When you are guided by God, unusual might strengthens you supernaturally. I David Oyedepo is not tired because I am guided by divine guidance. Before the end of this Month, many people will change Level! you believe this Shout the loudest Amen!!
Today is our Divine Favor banquet, every child of God is favoured Romans 9:21-24 The redeemed of the Lord are children of Mercy. Psalms 102:19. Favour is the cure for
Frustration
stagnation and
misfortune
Joseph Prospered becasue God gave him Favour and Grace in the sight of His master. Favour located him in the land of misfortune. The favour of God will begin to Manifest in your Life in Jesus Name Psalms 5:15 says
Don't be tired of serving God, don't ever let no devil weary you, where you stop serving God is where favour stops. Don't let any emergencies stop you. You need a key to access any Store House, the key to access divine favour is service to God. Seek ye first His Kingdom has been my secret till date.
Welcome to your new world of Favour in Jesus Name.
Support the Good work on this Blog Donate in $ God Bless you
[jetpack_subscription_form title="GET FREE UPDDATE VIA EMAIL" subscribe_text="JOIN OTHER CHRISTIANS GET UPDATE BY EMAIL" subscribe_button="Sign Me Up" show_subscribers_total="1"]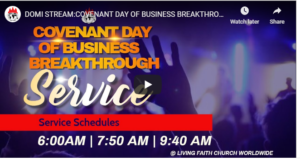 You are watching the Winners' Chapel Thursday LIVE Service tagged "Covenant Hour of Prayer Service – Celebrating 38 Years Of The Liberation Mandate" –2020 with Bishop David Oyedepo at Living Faith Church, aka Winners' Chapel, Faith Tabernacle Canaan Land Ota Nigeria. (Please, reload this page for the latest live service)
Bishop David Oyedepo is the presiding Bishop of the Living Faith Church Worldwide a.k.a Winners' Chapel. He is a man of mighty exploits operating in the Spirit of Faith. He was given a mandate by God to set the captives free through the preaching and teaching of the word of faith. winners chapel live service
The Mandate speaks of liberation in all facets of human existence, focusing mainly on destinies that have been afflicted, battered, beaten, tattered, deformed and subsequently in groaning and agonies, as a result of pains, pangs and crying.
This Is The Divine Mandate: "The hour has come to liberate the world from all oppressions of the devil through the preaching of the word of faith, and I am sending you to undertake this task." winners chapel David Oyedepo Winners' Chapel LIVE Service COVENANT DAY OF VENGEANCE