SHILOH 2018- Encounter/Celebration Night December 7, 2018

SHILOH 2018- Encounter/Celebration Night December 7, 2018
SHILOH 2018 Day 3: Hour of Visitation – Dec 6, 2018
SHILOH 2018 Day 4: Hour of Visitation – 7th December, 2018
SHILOH 2018 Live broadcast from Canaan Land Day 3

SHILOH 2018 Live broadcast from Canaan Land

SHILOH 2018 Youth Alive Forum December 2018
GETTING READY FOR SHILOH 2018 DOMINION Day Two
SHILOH 2018 Day 2: Youth Alive Forum – 5th December, 2018
SHILOH 2018 Day 2: Hour of Visitation – Morning Session – 5th December, 2018

SHILOH 2018 Live broadcast from Canaan Land Day 2
Reload this page for Daily Live Broadcast from Canaan Land Shiloh 2018. Ministration by Bishop David O. Oyedepo, President of the Living Faith Church aka Winners Chapel. SHILOH 2018 Live broadcast from Canaan Land Day 2 Two
Support the Good work on this Blog Donate in $ God Bless you
[jetpack_subscription_form title="GET FREE UPDDATE VIA EMAIL" subscribe_text="JOIN OTHER CHRISTIANS GET UPDATE BY EMAIL" subscribe_button="Sign Me Up" show_subscribers_total="1"]
SHILOH 2018 Live broadcast from Canaan Land Day 2 Two
History of the Shiloh Theme:
History of the various SHILOH Prophetic themes:
1999: Encounter with destiny
2000: Heaven on Earth
2001: From Glory to Glory
2002: What Wisdom is This!
2003: All Things are Possible
2004: Showers Blessings
2005: Possessing your Possessions.
2006: Destined to Win
2007: More than Conquerors
2008: Manifestation of The Sons of God
2009: Hour of Restoration
2010: Breakthroughs Unlimited
2011: Waves of Glory
2012:Double Portion
2013: Exceeding Grace
2014:Heaven on Earth
2015: From Glory to Glory.
2016: My Case is Different
2017: My New Dawn.
Shiloh 2018/2019 Theme, Live Broadcast, YouTube and Messages Day 2- Day 6
The live broadcast for Winners Chapel Shiloh 2018 can be viewed as stated earlier. It's either you visit the viewing center nearest to you or you watch the live broadcast on YouTube with your smart phone or computer. Shiloh 2018 Live Streaming
SHILOH 2018 INTERCESSORY PRAYER GUIDELINES
"And the whole congregation of the children of Israel assembled together at Shiloh, and set up the tabernacle of the congregation there. And the land was subdued before them." Josh. 18:1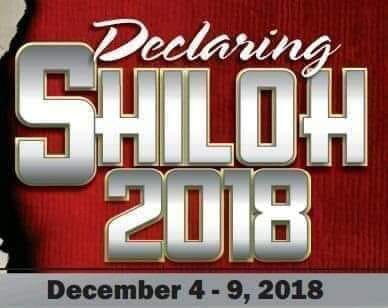 THANKSGIVING FOR PAST SHILOH
1. Father, we thank you for the supernatural impact of the word at Shiloh since inception – Psa. 115: 1.
2. Father, thank you for turnaround testimonies, diverse healings, deliverances and breakthroughs that characterized all the past Shiloh events – Obad. 17
3. Father, thank you for the impact of Shiloh 2017 both at Canaanland and across all our viewing centres around the world – Zeph. 3:17
4. Father, thank you for perfect weather condition all through Shiloh 2017 – Job. 37:22
5. Father, thank you for peace and serenity all through Shiloh 2017 – Jn 14:27
……and many more SHILOH 2018 Live broadcast from Canaan Land Day 2 Two
SHILOH 2018 INTERCESSORY PRAYER GUIDELINES, A Mountain of Transfiguration
6. Father, sanctify the entirety of Canaanland, making it fit for your manifest presence at Shiloh 2018 – Exo. 3:5
7. Father, let your cloud of glory fill the entire Canaanland and all our viewing centres around the world all through Shiloh 2018 – 2Chr. 5:13-14
8. Father, let Shiloh 2018 be a most peaceful event, thereby providing a platform for the manifestation of signs and wonders among your people – Ps. 46:10
9. Father, we decree perfect weather conditions all through Shiloh 2018 the sun shall not be scorching, and the cloud shall withhold its rain – Job 37:22
10. Father, by the blood of Jesus, we sanctify all equipments that shall be used during Shiloh 2018 both in Canaanland and across all our viewing centres around the world for excellent and hitch-free performance – Rev. 12:11
11. Father, we decree hitch free transmission from Canaanland t0 all our viewing centres around the world all through Shiloh 2018 – 1 Cor. 2:16
12. Father, let the praise sessions and choir ministrations be freshly anointed for maximum impact at Shiloh 2018 – 2Chr 5:13-14
13. Father, by the blood of Jesus, we decree peace across the length and breadth of Nigeria before, during and after Shiloh 2018 – Jn. 14:27……and many more. SHILOH 2018 Live broadcast from Canaan Land Day 2 Two