Seed Of Destiny Tuesday 20 November 2018
TOPIC- THE DANGEROUS WITHDRAWAL
(FROM THE NOVEMBER 2018 EDITION OF THE SEEDS OF DESTINY DAILY DEVOTIONAL BY DR. PASTOR PAUL ENENCHE)
THE DANGEROUS WITHDRAWAL TUESDAY 20TH NOVEMBER, 2018
SCRIPTURE: And he said, What pledge shall I give thee? And she said, Thy signet, and thy bracelets, and thy staff that is in thine hand. And he gave it her, and came in unto her, and she conceived by him. Genesis 38:18
THOUGHT FOR THE DAY: The altar of iniquity is the altar of wastage of wealth.
Our anchor Scripture reveals to us that every sinful action of man robs him of his treasures. When a person decides to compromise, he has given the enemy the opportunity to make withdrawals from his life.
From the account of Judah in Genesis 38:1-26, Judah lost his signet, and bracelets, and staff on the platform of iniquity. The signet represents seal (signature); so when Judah gave out his signature, he agreed that withdrawals should be made from the blessing deposited in his life. The bracelets are the symbol of wealth and prosperity. Every time a person engages in sinful pleasure, he is wasting away the wealth of his life; the altar of iniquity is the altar of wastage of wealth. The staff represents authority. So, Judah lost his authority on the platform of sinful pleasure.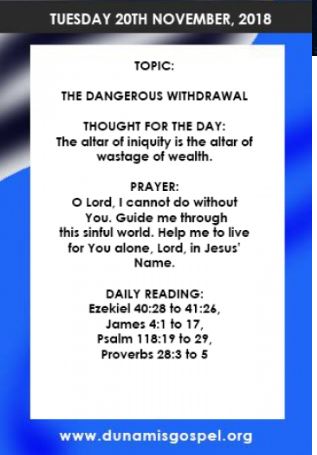 Beloved, iniquity undermines authority. You don't have a voice to speak in the world of the spirit if your conscience is not clear.
The truth is, sin makes demand on a person's riches, wealth and authority. Most people would have been better than what they are today if not for the destructive pleasure of sins like drinking alcohol, stealing, lying, immorality, deception, watching corrupt movies, robbery, etc.
The wages of sin is death (Romans 6:23); on the altar of sin, something dies in a person's life.
Support the Good work on this Blog Donate in $ God Bless you
[jetpack_subscription_form title="GET FREE UPDDATE VIA EMAIL" subscribe_text="JOIN OTHER CHRISTIANS GET UPDATE BY EMAIL" subscribe_button="Sign Me Up" show_subscribers_total="1"]
Beloved, receive the grace to live right, in Jesus' Name.
Remember this: The altar of iniquity is the altar of wastage of wealth.
ASSIGNMENTS: Seed Of Destiny Tuesday 20 November 2018 
1. Be eternity conscious; think about God's possible reaction before taking actions in life.
2. Avoid the life of compromise.
3. Keep your spiritual life aflame by fellowshipping with the Brethren, consistent praying, studying the Word of God and fasting at least once a week.
FOR FURTHER UNDERSTANDING, GET THIS MESSAGE: THE TRANSACTION OF INIQUITY
PRAYER: O Lord, I cannot do without You. Guide me through this sinful world. Help me to live for You alone, Lord, in Jesus' Name.
DAILY BIBLE READING: Ezekiel 40:28 to 41:26, James 4:1 to 17, Psalm 118:19 to 29, Proverbs 28:3 to 5
QUOTE: Where guilt is found, faith is lost and where faith is lost, life is in danger. Culled from 22 LAWS OF LIFE VOL. 2 by Dr Paul Enenche.
AMAZING FACT: The placement of the eyes of a donkey enables them to see all four of their legs at all times.
TODAY IN HISTORY: 20/11/1998 – The first module of the International Space Station, Zarya, is launched.
DON'T FORGET TO ATTEND: 2 Power-packed Communion Services tomorrow with friends and loved ones for the preservation of your life and destiny by 4:45pm & 6:30pm. God bless you as you come. Seed Of Destiny Tuesday 20 November 2018