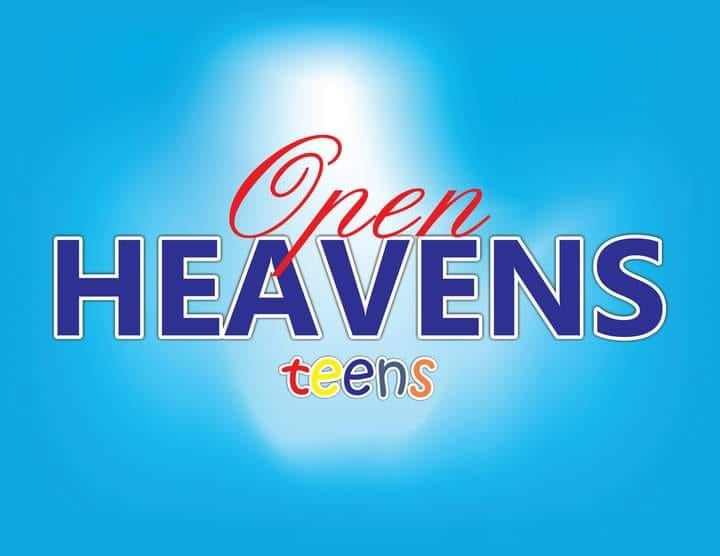 Open Heaven For Teens 9 June 2023 – God's Love
TOPIC: God's Love [Open Heaven for Teens 9 June 2023]
MEMORISE: "Behold, what manner of love the Father hath bestowed upon us that we should be called the sons of God: therefore the world knoweth us not, because it knew him". 1 John 3:1
Also Read:seeds-of-destiny-8-june-2023-the-secret-of-godly-wealth
READ: Isaiah 49:15-18
15 Can a woman forget her sucking child, that she should not have compassion on the son of her womb? yea, they may forget, yet will I not forget thee.
16 Behold, I have graven thee upon the palms of my hands; thy walls are continually before me.
17 Thy children shall make haste; thy destroyers and they that made thee waste shall go forth of thee.
18 Lift up thine eyes round about, and behold: all these gather themselves together, and come to thee. As I live, saith the Lord, thou shalt surely clothe thee with them all, as with an ornament, and bind them on thee, as a bride doeth.
MESSAGE:
The Bible declares in 1 John 4:8 that our God is love, He expresses His love for us daily. The greatest expression of His love however, is that He gave up His Son to die for our sins. Many people claim to love but their love fails when tested; God's love never fails. He loves you so much that He inscribed your name on His palm (Isaiah 49:16). Believe it or not, a nursing mother can forget her child, but God can never forget you.
God loves every child of His equally irrespective of their social or financial status. The Bible says that He is no respecter of persons. He doesn't see you as a liability but as a child to be pampered. A popular hymnist wrote:
Support the Good work on this Blog Donate in $ God Bless you
[jetpack_subscription_form title="GET FREE UPDDATE VIA EMAIL" subscribe_text="JOIN OTHER CHRISTIANS GET UPDATE BY EMAIL" subscribe_button="Sign Me Up" show_subscribers_total="1"]
"Father -like He tends and spares us,
Well our feeble frame He knows
In His arms He gently bears us
Rescues us from all our foes."
Even when you go through unpleasant situations, His eyes are on you all the way. So, don't believe anything less of yourself. Embrace the love of God today and replicate it wherever you find yourself.
PRAYER POINT: Father, thank You for loving me so much.
BIBLE IN ONE YEAR: Psalms 22-27
HYMN 19: Jesus Loves Me! This I Know
Jesus loves me! this I know,
For the Bible tells me so;
Little ones to Him belong;
They are weak, but He is strong.
CHORUS
Yes, Jesus loves me,
Yes, Jesus loves me,
Yes, Jesus loves me,
The Bible tells me so.
Jesus loves me He who died,
Heaven's gate to open wide,
He will wash away my sin,
Let His little child come in.
Jesus loves me, loves me still,
Tho' I'm very weak and ill
From His shining throne on high
He will watch me where I lie.
Jesus loves me He will stay
Close beside me all the way,
If I love Him when I die
He will take me home on high.
Also Read:seeds-of-destiny-8-june-2023-the-secret-of-godly-wealth
Daily Devotional for Teen's guide was written by Pastor E.A. Adeboye, the General Overseer of the Redeemed Christian Church of God, one of the largest evangelical church in the world and also the President of Christ the Redeemer's Ministries.