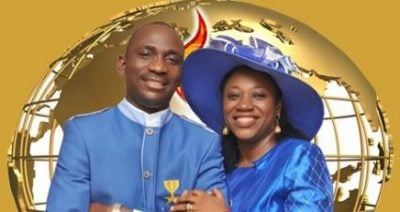 Dunamis Seeds Of Destiny 8 June 2023 Devotional By Dr. Paul Enenche — The Secret Of Godly Wealth
TOPIC: The Secret Of Godly Wealth (Seeds Of Destiny 8 June 2023)
SCRIPTURE: Seek the Kingdom of God above all else, and live righteously, and he will give you everything you need. Matthew 6:33 (New Living Translation).
THOUGHT FOR THE DAY: Addiction to God is a secret of wealthy Godly men.
Seeds Of Destiny For Today 2023 MESSAGE:
The Scripture makes it clear that prosperity is a tool for Kingdom advancement. The Scripture gave account of many Godly men who were equipped with supernatural abundance for the advancement of the Kingdom of God.
One of such men was Isaac. Therefore, we shall be looking at the personality and prosperity of Isaac in our study today.
Also Read; open-heaven-8-june-2023-light-up-3
Isaac, the son of Abraham, was the wealthiest person in his generation. He came to a point where he became wealthier and mightier than the whole nation of Philistine, until the Philistines and Abimelech, their king, told him to go away from them (Genesis 26:12-16).
Abimelech, the king of the Philistines seemed to have told Isaac, "You are intimidating us. You are a person and we are a nation, but you are bigger than all of us. Just leave us alone. Go away from us." Isaac was so prosperous or wealthy that a whole nation envied him.
Now, what was the secret of Isaac's wealth?
It is addiction to God! Addiction to God is a secret of wealthy Godly men.
The Bible makes it clear that Isaac went to meditate in the field at the evening time in Genesis 26:24-63. He sat before Jehovah and was meditating.
Obviously, there was no Bible at that time. So, he probably meditated on the historical writings about Adam, Noah and Abraham. He must have been meditating on the Lord God of Abraham, the One who turned his father, Abraham from being a nonentity to a celebrity. He must have been meditating on the God who took his father from the background to the forefront, the One who changed his father from an outstanding failure to a generational success. Isaac was deeply buried in meditation. But when he lifted up his eyes, he saw camels coming. They were the camels carrying Rebecca, his future wife.
Support the Good work on this Blog Donate in $ God Bless you
[jetpack_subscription_form title="GET FREE UPDDATE VIA EMAIL" subscribe_text="JOIN OTHER CHRISTIANS GET UPDATE BY EMAIL" subscribe_button="Sign Me Up" show_subscribers_total="1"]
Beloved, what lesson can we learn from here? When you bury yourself in the Word of God in meditation, your life will change because you will literally see something, something that can spark a revolution in your life.
Remember this: Addiction to God is a secret of Godly wealthy men.
ASSIGNMENTS:
Make up your mind to be addicted to God and His Kingdom.
Ask God to impart you with the unction for Kingdom wealth for the advancement of His Kingdom on earth.
PRAYER: Thank You Lord for Your Word to me today. I receive the grace to be addicted to You so I can access all that You have in store for me, Lord, in Jesus' Name.
FOR FURTHER UNDERSTANDING, GET THIS MESSAGE: THE PATHWAYS TO EXCELLENCE AND DISTINCTION.
QUOTE: Most people do not practice the covenant of tithing. That is why their wealth and influence do not exceed their generation. Culled from "21 UNCOMMON KEYS TO FINANCIAL OVERFLOW" by Dr Paul Enenche.
DAILY READING: Psalm 91-93.
AMAZING FACT: Elephants migrate to avoid poachers and other threats, even moving during the night to avoid traveling during the daytime, when poachers are most active.
PROPHETIC DECLARATION/WORD: May your addiction to God in this season produce addition of good in your life in Jesus Name.
Also Read; open-heaven-8-june-2023-light-up-3
Today's devotional was written by Pastor Paul Enenche of the Dunamis International Gospel Centre (DIGC), headquartered at Abuja, Nigeria, with Pastor Paul and Becky Enenche, as the Senior Pastors. It is a power-packed arena where God's Presence, Principles and Power are at work for the salvation, healing and restoration of human destinies and dignities.