Joyce Meyer's Daily 9 March 2018 Devotional
Topic: Praise God in Your Prison [Joyce Meyer's Daily Friday March 9th, 2018]
He who believes in Me [who adheres to, trusts in, and relies on Me], as the Scripture has said, 'From his innermost being will flow continually rivers of living water.' — John 7:38
Joyce Meyer's Daily 9 March 2018 Devotional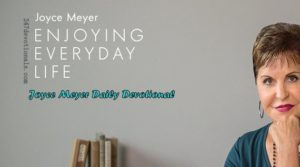 Sometimes we find ourselves in such horrible messes that it's hard to imagine waiting one more second for relief and release. But we need to keep waiting on God and trusting Him with a sweet and simple faith. Then, in a way we never could've figured out—God moves suddenly!
Paul and Silas knew about waiting, and they waited well. Acts 16 tells the story of how they were attacked by a crowd, beaten and thrown in jail. Verse 24 says the jailer put them into the inner prison (the dungeon) and fastened their feet in the stocks. Paul and Silas didn't seem to mind—they just decided to start singing and began to worship the Lord. They began to wait on God.
Suddenly, God sent an earthquake that opened the prison doors and loosed their chains. He set them free!
Support the Good work on this Blog Donate in $ God Bless you
[jetpack_subscription_form title="GET FREE UPDDATE VIA EMAIL" subscribe_text="JOIN OTHER CHRISTIANS GET UPDATE BY EMAIL" subscribe_button="Sign Me Up" show_subscribers_total="1"]
When people patiently and expectantly wait on God in the midst of horrible circumstances, suddenly God breaks through. So don't give up! Don't stop believing! Stay full of hope and expectation. God's power is limitless, and He'll break through for you.
Prayer Starter: God, no matter how bad my messes get, I choose to praise You in my prison. I know You will come through for me, and You may move "suddenly" when the timing is right to set me free.
From Joyce Meyer's Ministries.
Joyce Meyer's Daily 9 March 2018 Devotional