Topic:Beautiful Fruit
Bible in a Year:
Malachi 1–4
Revelation 22
The seed is the word of God.
Luke 8:11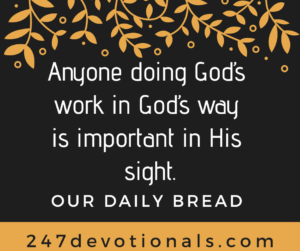 "Kids should be able to throw a seed anywhere they want [in the garden] and see what pops up," suggests Rebecca Lemos-Otero, founder of City Blossoms. While this is not a model for careful gardening, it reflects the reality that each seed has the potential to burst forth with life. Since 2004, City Blossoms has created gardens for schools and neighborhoods in low-income areas. The kids are learning about nutrition and gaining job skills through gardening. Rebecca says, "Having a lively green space in an urban area . . . creates a way for kids to be outside doing something productive and beautiful."
Jesus told a story about the scattering of seed that had the potential of producing "a hundred times more than was sown" (Luke 8:8). That seed was God's good news planted on "good soil," which He explained is "honest, good-hearted people who hear God's word, cling to it, and patiently produce a huge harvest" (v. 15 nlt).
Support the Good work on this Blog Donate in $ God Bless you
[jetpack_subscription_form title="GET FREE UPDDATE VIA EMAIL" subscribe_text="JOIN OTHER CHRISTIANS GET UPDATE BY EMAIL" subscribe_button="Sign Me Up" show_subscribers_total="1"]
The only way we can be fruitful, Jesus said, is to stay connected to Him (John 15:4). As we're taught by Christ and cling to Him, the Spirit produces in us His fruit of "love, joy, peace, forbearance, kindness, goodness, faithfulness, gentleness and self-control" (Galatians 5:22–23). He uses the fruit He produces in us to touch the lives of others, who are then changed and grow fruit from their own lives. This makes for a beautiful life.