Charles Stanley InTouch Daily Devotional
TOPIC- Running With Endurance JUNE 07, 2018
Bible text- Hebrews 12:1-3
A marathon is a taxing race. The runner must overcome muscle cramps, blisters, and the urge to quit. But each step reaffirms his commitment to keep going until he triumphantly crosses the finish line.
In many ways, this is what the Christian life is like. It's not a fast sprint to heaven but a long, obedient marathon. There are obstacles that could cause us to stumble and burdens we need to lay aside so we can run unencumbered. Charles Stanley InTouch Daily Devotional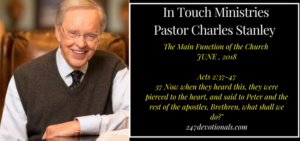 Support the Good work on this Blog Donate in $ God Bless you
[jetpack_subscription_form title="GET FREE UPDDATE VIA EMAIL" subscribe_text="JOIN OTHER CHRISTIANS GET UPDATE BY EMAIL" subscribe_button="Sign Me Up" show_subscribers_total="1"]
The one word that summarizes our earthly race is endurance. This term implies going through something difficult without quitting. It includes the concept of abiding under hardship with patient, sustaining perseverance. Christ hasn't promised us an easy life. In fact, He told His disciples, "In the world you have tribulation" (John 16:33).




How can we keep going? The answer is to fix our eyes on Jesus, not on the hardships and obstacles in our life. He set the pattern for us by enduring the cross for the joy set before Him. To focus on the Lord, we must read the Scriptures. Then we'll be able to see what He would have us do, how we're to respond to various situations in life, which resources He's provided to help us, and what He has promised us at the finish line. Charles Stanley InTouch Daily Devotional
The joy set before us includes an imperishable, undefiled inheritance reserved for us in heaven (1 Peter 1:4) and an eternal weight of glory far beyond comparison to our earthly suffering (2 Corinthians 4:17). But best of all, when we finally cross the finish line, we will enter into Christ's presence to be with Him forever.
Charles Stanley InTouch Daily Devotional