Open Heaven For Today 7, March 2018
Topic- YOUR TIME OF FAVOUR IS NOW! – Wednesday, March

7th

, 2018 E. A Adeboye
Memorise: And the LORD was with Joseph, and he was a prosperous man; and he was in the house of his master the Egyptian. Genesis 39:2
Read: Genesis 37:3-11(KJV)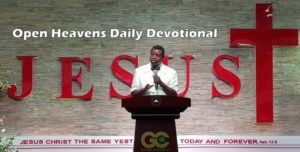 3 Now Israel loved Joseph more than all his children, because he was the son of his old age: and he made him a coat of many colours.
4 And when his brethren saw that their father loved him more than all his brethren, they hated him, and could not speak peaceably unto him.
5 And Joseph dreamed a dream, and he told it his brethren: and they hated him yet the more.
6 And he said unto them, Hear, I pray you, this dream which I have dreamed:
7 For, behold, we were binding sheaves in the field, and, lo, my sheaf arose, and also stood upright; and, behold, your sheaves stood round about, and made obeisance to my sheaf.
8 And his brethren said to him, Shalt thou indeed reign over us? or shalt thou indeed have dominion over us? And they hated him yet the more for his dreams, and for his words.
9 And he dreamed yet another dream, and told it his brethren, and said, Behold, I have dreamed a dream more; and, behold, the sun and the moon and the eleven stars made obeisance to me.
10 And he told it to his father, and to his brethren: and his father rebuked him, and said unto him, What is this dream that thou hast dreamed? Shall I and thy mother and thy brethren indeed come to bow down ourselves to thee to the earth?
11 And his brethren envied him; but his father observed the saying.
open-heaven-for-today-7-march-2018
Bible in one year: Open Heaven For Today 7, March 2018
Numbers 14-15, 2nd Corinthians 2:12-3:18, Hymnal: Sing hymn 11
Message:- "Thou shalt arise, and have mercy upon Zion: for the time to favour her, yea, the set time, is come." – Psalm 102:13
For everyone who has been looking up to God for assistance in one way or the other, I am happy to announce to you that the time of your favour has come in the mighty Name of Jesus. I want you to utter the prophetic words of God in the above verse of scripture to yourself, inserting your name into the appropriate places. As you declare these words over yourself, believe in your heart that what is written is fulfilled in your life today. From this scripture, we discover that when a man's time of favour comes, God does two things: He arises and He shows mercy.
Open Heaven For Today – 7 March 2018
What are the implications of God arising? Based on our studies for the past two days, when God arises, his enemies are scattered (Psalm 68:1-3). This question then comes to mind: who are the enemies of God? Well, when you look at Acts 9:1-5, you will discover that the enemies of God are the enemies of His children. There was a man called Saul to Tarsus, who made it his life's mission to persecute Christians, throwing them into prison and even killing them. His hatred of Christians was so intense that he sought and got permission from the leaders of the Jewish nation to go to Damascus to seek and arrest them. His mandate was to bring them back to Jerusalem in bonds so that they could be severely dealt with. On his way to Damascus, the Lord met him and knocked him down from his horse. Do you know that those persecuting you are about to be knocked down from their high horse right now? After knocking him down, the Lord spoke to Saul in Acts 9:4c saying,
Open Heaven For Today 7, March 2018 [Wednesday] daily devotional by Pastor E. A. Your Time of Favour is Now!
"Saul, Saul, why persecutes thou me?"
Saul's response was "How can I be persecuting you when I don't even know who you are?" The Lord then said, "I Am Jesus, and it is Me you are persecuting when you persecute My children." Those tormenting the children of God don't know that they are in serious danger, because they are actually fighting against God, and when God arises, His enemies will be scattered.
You are reading Open Heaven For Today, Rccg Open Heaven 2018 Open Heaven For Today 7, March 2018
Support the Good work on this Blog Donate in $ God Bless you
[jetpack_subscription_form title="GET FREE UPDDATE VIA EMAIL" subscribe_text="JOIN OTHER CHRISTIANS GET UPDATE BY EMAIL" subscribe_button="Sign Me Up" show_subscribers_total="1"]
So if I were you, I would quickly accept Jesus as my Lord and Saviour so that I can be numbered among God's children. I would then congratulate myself, knowing well that my enemies are in serious trouble from now on. Brethren, God is not blind. He is fully aware of everything happening here on earth, and He will arise for you today in Jesus' Name.
Prayer Point
Father, I proclaim in the mighty Name of Jesus, my time of favour is now!
Open Heavens Daily Devotional Lessons was written by Pastor E.A. Adeboye, the General Overseer of the Redeemed Christian Church of God, one of the largest evangelical Church in the world and also the President of Christ the Redeemer's Ministries.
Sing hymn 11 Open Heaven For Today 7, March 2018
O GOD, OUR HELP IN
AGES PAST
O God, our help in ages past,
Our hope for years to come,
Our shelter from the stormy blast,
And our eternal home.
Under the shadow of Thy throne
Thy saints have dwelt secure;
Sufficient is Thine arm alone,
And our defence is sure
Before the hills in order stood,
Or earth receive her frame,
From everlasting Thou art God,
To endless years the same.
A thousand ages in Thy sight
Are like an evening gone;
Short as the watch that ends the
night
Before the rising sun.
Time, like an ever-rolling stream,
Bears all its sons away
They fly forgotten, as a dream
Dies at the opening day.
O God. Our help in ages past,
Our hope for years to come,
Be Thou our guard while life
Shall last,
And our external home.