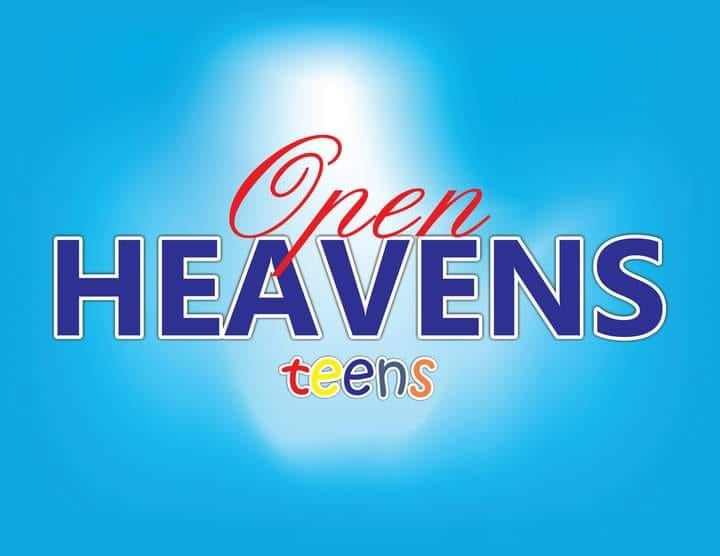 Open Heaven For Teens 19 July 2023 – Peace
TOPIC: Peace [Open Heaven for Teens 19 July 2023]
MEMORISE: For the kingdom of God is not meat and drink: but righteousness, and peace, and joy in the Holy Ghost. Romans 14:17
READ: Galatians 5:22-23
22 But the fruit of the Spirit is love, joy, peace, longsuffering, gentleness, goodness, faith,
23 Meekness, temperance: against such there is no law.
MESSAGE
Peace is one of the fruit a fellow bears when he/she abides in the Holy Spirit: this involves surrendering your ideas, perspectives, relationships, words, actions, thoughts, and emotions to the Holy Spirit. It's impossible to bear this fruit if you're not connected to the Holy Spirit.
The reason there is strife, violence, hatred, et cetera, in our world today is that many people want to lord their views and opinions on other people at all costs. The antidote to this is abiding in the Holy Spirit. John 15:4 says:
"Abide in me, and I in you. As the branch cannot bear fruit of itself, except it abide in the vine; no more can ye, except ye abide in me."
Support the Good work on this Blog Donate in $ God Bless you
[jetpack_subscription_form title="GET FREE UPDDATE VIA EMAIL" subscribe_text="JOIN OTHER CHRISTIANS GET UPDATE BY EMAIL" subscribe_button="Sign Me Up" show_subscribers_total="1"]
Also Read:trem-devotional-19-july-2023-the-battle-is-all-about-the-word
Sometimes, however, an unpleasant situation or people's opinions can rob one of his/her peace. If you find yourself in such a situation, you have to allow the Holy Spirit fill your heart completely. Invite Him afresh into your life today.
PRAYER POINT
Holy Spirit, please fill my life with your peace and still every storm around me, in Jesus' name.
HYMN 16 – BREATHE ON ME
Breathe on me, Breath of God,
Fill me with life anew,
That I may love the way you love,
And do what you would do.
Breathe on me, Breath of God,
Until my heart is pure,
Until my will is one with yours,
To do and to endure.
Breathe on me, Breath of God,
So shall I never die,
But live with you the perfect life
For all eternity.
Daily Devotional for Teen's guide was written by Pastor E.A. Adeboye, the General Overseer of the Redeemed Christian Church of God, one of the largest evangelical church in the world and also the President of Christ the Redeemer's Ministries.