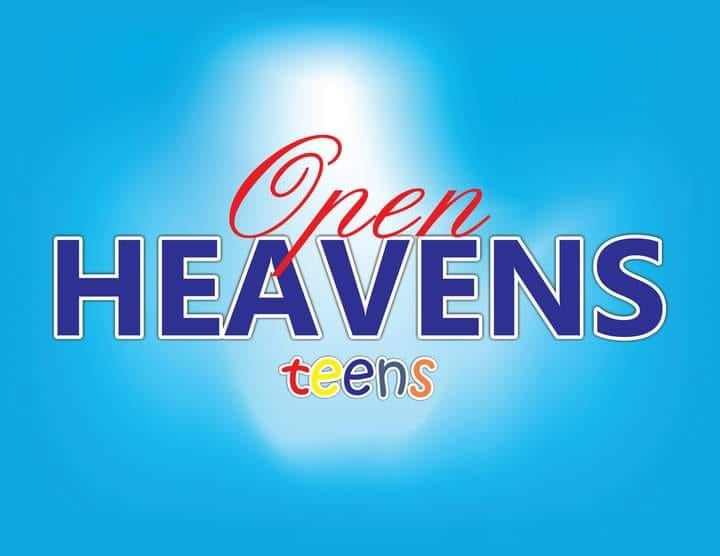 Open Heaven For Teens 12 May 2023 – Time To Show Your Face
TOPIC: Time To Show Your Face [Open Heaven for Teens 12 May 2023]
MEMORISE: Arise, shine; for thy light is come, and the glory of the LORD is risen upon thee. Isaiah 60:1
Also Read;open-heaven-12-may-2023-divine-help-iii
READ: Matthew 5:14-16
14 Ye are the light of the world. A city that is set on an hill cannot be hid.
15 Neither do men light a candle, and put it under a bushel, but on a candlestick; and it giveth light unto all that are in the house.
16 Let your light so shine before men, that they may see your good works, and glorify your Father which is in heaven.
MESSAGE
Every child of God is light and is supposed to shine, but some have been hiding for too long. You must show yourself in all sectors of life. "Arise, Shine" is not a mere statement but a command that is capable of waking you from your slumber. You cannot be a child of God and refuse to shine your God-given light. Therefore, it is time for the gifts of God in you to shine forth.
You can't afford to shy away from things you can do excellently because you don't want to be noticed or because you are afraid. Beloved, that you have a gift shows hidden. If Joseph had hidden his gift of interpretation of dreams, he would not have found his way to the palace, neither would he have become the Prime Minister. Come out of hiding and shine wherever you find yourself. Shining projects God's glory and refusing to shine will only mean you are dimming God's glory in your life.
Support the Good work on this Blog Donate in $ God Bless you
[jetpack_subscription_form title="GET FREE UPDDATE VIA EMAIL" subscribe_text="JOIN OTHER CHRISTIANS GET UPDATE BY EMAIL" subscribe_button="Sign Me Up" show_subscribers_total="1"]
KEY POINT:
Stop being a coward; show your face
BIBLE IN ONE YEAR: 1 Chronicles 17-20
HYMN 6: I'm Pressing On The Upward Way
I'm pressing on the upward way,
New heights I'm gaining everyday;
Still praying as I onward bound
"Lord, plant my feet on higher ground."
CHORUS
Lord, lift me up and let me stand,
By faith, on Heaven's table-land;
Where love, and joy, and light abound,
Lord, plant my feet on higher ground.
My heart has no desire to stay
Where doubts arise, and fears dismay;
Though some may dwell where these abound,
My constant aim is higher ground.
Beyond the mist I fain would rise,
To rest beneath unclouded skies,
Above earth's turmoil peace is found
By those who dwell on higher ground.
I long to scale the utmost height,
Though rough the way, and hard the fight,
My song, while climbing, shall resound
Lord, lead me on to higher ground.
Lord, lead me up the mountain side
I dare not climb without my Guide;
And, heaven gained, I'll gaze around,
With grateful heart from higher ground.
Also Read;open-heaven-12-may-2023-divine-help-iii
Daily Devotional for Teen's guide was written by Pastor E.A. Adeboye, the General Overseer of the Redeemed Christian Church of God, one of the largest evangelical church in the world and also the President of Christ the Redeemer's Ministries.