Topic: Jesus Listens
(Open Heaven 10 January 2020)
Memorise: "If ye shall ask any thing in my name, I will do it." – John 14:14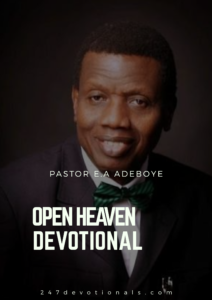 Read: Matthew 7:7-11 (KJV)
7 Ask, and it shall be given you; seek, and ye shall find; knock, and it shall be opened unto you:
8 For every one that asketh receiveth; and he that seeketh findeth; and to him that knocketh it shall be opened.
9 Or what man is there of you, whom if his son ask bread, will he give him a stone?
10 Or if he ask a fish, will he give him a serpent?
11 If ye then, being evil, know how to give good gifts unto your children, how much more shall your Father which is in heaven give good things to them that ask him?
Bible in One Year: Job 24-28
Open Heaven 10 January 2020 Friday MESSAGE:
You would most likely be required to book an appointment if you want to see a great person. If you are lucky to get that appointment and finally get to see him/her you must be brief because if you are not quick enough, he/she could leave you and move to something else. Great people of this world can be like that, but my Jesus, in spite of being the greatest of all, is different. He listens.
Jesus is really busy; in spite of this, the moment He hears the voice of any of His children, He stops everything else He is doing and pays rapt attention to you like He did for Bartimaeus in our Bible reading for today. One thing that gives me joy is not just that He stops everything else that He is doing to listen to me, but that He listens to me alone at that particular time. Jesus could have asked all the blind people around that place to come together since He was about to heal the blind, but He called only Bartimaeus.
I want you to know that Jesus is never too busy to listen to you and you alone. The problem is that most of us don't call on Him. These days, we talk more about prayers than we actually pray. He is gentle. He will not come into your situation uninvited. He saw that Bartimaeus was blind, yet He asked him what he wanted; He knew the history of the man at the pool of Bethesda yet He asked him if he wanted to be whole. A song writer said "O what needless pain we bear, all because we do not carry everything to God in prayer." Take everything to Him in prayer. Many times, we worry about our problems and complain, forgetting to mention them to God; no wonder they linger. Psalm 34:15 tells us:
Support the Good work on this Blog Donate in $ God Bless you
[jetpack_subscription_form title="GET FREE UPDDATE VIA EMAIL" subscribe_text="JOIN OTHER CHRISTIANS GET UPDATE BY EMAIL" subscribe_button="Sign Me Up" show_subscribers_total="1"]
"The eyes of the LORD are upon the righteous, and his ears are open unto their cry."
Are you feeling discouraged and depressed? Talk to Jesus. Are you anxious about something? Talk to Jesus. Are you experiencing a strong temptation that you might fall? Talk to Jesus. He will leave everything else to listen to you; just talk to Him now.
Open Heaven 10 January 2020 Friday Action Point:
Go before Jesus now and pour out your heart to Him. He will listen to you.
Open Heaven 10 January 2020 Friday Hymn 20: Nearer, My God To Thee
1 Nearer, my God to Thee,
Nearer to Thee;
E'en though it be a cross
That raiseth me,
Still all my song shall be,
Nearer, my God, to Thee, (2ce)
Nearer to Thee!
2 Though, like a wanderer,
The sun gone down,
Darkness be over me,
My rest a stone,
Yet in my dreams I'd be
Nearer, my God, to Thee, (2ce)
Nearer to Thee!
3 There let the way appear
Steps unto heaven;
All that Thou send'st to me
In mercy given;
Angels to beckon me
Nearer, my God, to Thee, (2ce)
Nearer to Thee!
4 Then with my waking thoughts
Bright with thy praise,
Out of my stony grief
Bethel I'll raise;
So by my woes to be
Nearer, my God to Thee, (2ce)
Nearer to Thee!
5 Or if on joyful wing
Cleaving thy sky,
Sun, moon, and stars forgot,
Upwards I fly
Still all my songs shall be,
Nearer my God to Thee, (2ce)
Nearer to Thee!