Live Broadcast Showing Hour Of Salvation with David Ibiyeomie
Salvation TV; the television station of the Commission
FAITH TV, AFRICA
HOPE TV, CANADA
WJYS TV CHICAGO- CHANNEL 62
OPPNA KANALEN GOTEBORG (OKG), SWEDEN
Day star USA
Live Stream Hour Of Salvation with David Ibiyeomie
Showing Hour Of Salvation with David Ibiyeomie – Classic Episodes
Inspirational: Pastor David Ibiyeomie – Discipline Key to Stardom
ABOUT DAVID IBIYEOMIE
David Ibiyeomie is the presiding Pastor of Salvation Ministries – Home of Success; one of the fastest growing and spreading churches in the world. He pastors millions of worshippers spread across the globe with Headquarters presently located at Plot 17 Birabi Street, GRA Phase 1, Port Harcourt in Rivers State of Nigeria.
Born in Bonny Island, Rivers State, Nigeria on the 21st of October, 1962 to the family of late Chief and Mrs. Apollos Iganibo of Bolo Town in Ogu / Bolo Local Government Area of Rivers State, Nigeria
David Ibiyeomie attended Banham Primay School, Port Harcourt, Rivers State from 1969 to 1974 for his Primary education. He went to Government Comprehensive Secondary School Borikiri, Rivers state between 1974 and 1979 for his secondary education. After then, he was admitted into Rivers State University of Science and Technology, Port Harcourt for a degree course in Micro-biology in 1980.
Support the Good work on this Blog Donate in $ God Bless you
[jetpack_subscription_form title="GET FREE UPDDATE VIA EMAIL" subscribe_text="JOIN OTHER CHRISTIANS GET UPDATE BY EMAIL" subscribe_button="Sign Me Up" show_subscribers_total="1"]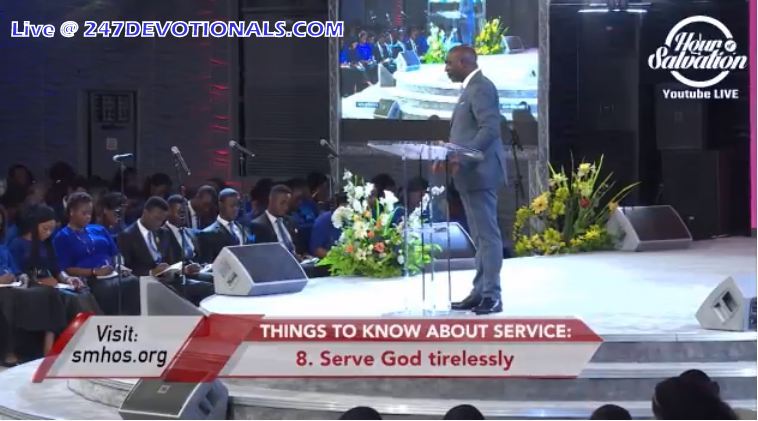 In recognition of his diligence and result oriented Ministry, the Bradley University of America awarded him an Honorary Doctorate Degree in Divinity on the 15th of May 2004.
David Ibiyeomie became born again in 1995. After he gave his life to Christ, he discovered his divine calling, and by the reason of that, he is a Pastor and teacher of the Gospel.
His decision was influenced through divine guidance to be trained under a great servant of God, Bishop David Oyedepo. He attended full time Bible School in the Word of Faith Bible Institute, an arm of David Oyedepo's Ministries in 1995. In the course of his training, he was greatly influenced by Bishop Oyedepo's Ministry standards and impact.
While in the Bible School, the vision to establish and run Church based ministry became very clear to him. Therefore, on Sunday April 13th 1997, with 34 persons in attendance, and a mandate TO
ESTABLISH THE KINGDOM OF GOD HERE ON EARTH through infallible proofs, David Ibiyeomie
started Salvation Ministries, the Home of Success.
Barely 21years in ministry, he has become a phenomenon to the world. On the 13th of February 2011, the church started 14 satellite churches in one day, with all running five services each; a new record in the history of church growth. Today, David Ibiyeomie pastors millions of worshippers spread all over the globe through his television ministry, online ministration and with over 350 satellite churches within and outside the country and over 370 pastors assisting him.
David Ibiyeomie takes great pleasure in helping the less privilege. This has led to the establishment of David Ibiyeomie Foundation (DIF) which has contributed immensely to the society through her welfare programmes and schemes such as scholarship, welfare packages, free medical outreaches, gifts to the orphanages, prisons, physically changed amongst others.
David Ibiyeomie through the church- Salvation Ministries is constructing schools which will be equipped with the state of the arts facilities for the general public. Through the Church, he has constructed a home for the elderly in port Harcourt, reconstructed several roads in the capital city of Port Harcourt (Nigeria), and sent relief materials to war torn areas such as Bayelsa State (Nigeria), Jos-Plateau State (Nigeria), Makurdi-Benue State (Nigeria), Liberia in the Sub-saharan region to mention but a few. David Ibiyeomie is intensely involved in community service with a commitment to building a society furnished with dignity.
In 2001, David Ibiyeomie started a television program called THE HOUR OF SALVATION on NTA channel 10 Port Harcourt with the maiden episode, "FAITH IS NOW". Today, he preaches on the same television Program in over 47 television stations both locally and internationally. Some of these
stations include: David Ibiyeomie
Salvation TV; the television station of the Commission
FAITH TV, AFRICA
HOPE TV, CANADA
WJYS TV CHICAGO- CHANNEL 62
OPPNA KANALEN GOTEBORG (OKG), SWEDEN
Day star USA
WRNN New York
KICC Television London
Inspiration Television United Kingdom
GOD TV
THE WORD NETWORK USA
BEN TV United Kingdom
Africa Christian Broadcasting Network (ACBN)
MCTV CHANNEL 249 Chicago
AIT NETWORK
AIT (Port Harcourt, Abuja, Lagoa, Yenagoa)
SILVERBIRD NETWORK
ACBN e.t.c
Without doubt, David Ibiyeomie is one of the most respected authorities in Success, Excellence, Divine Health, Prosperity and The Holy Spirit. As a teacher, a prolific and erudite writer with the sole aim of impacting lives, David Ibiyeomie Books (DIB) has published over 80 books with best sellers such as
ENJOYING MARITAL BLISS
THE POWER OF OBEDIENCE
THE POWER OF COMMITMENT
WISDOM FOR CREATIVITY
ATTITUDE FOR SUPERNATURAL SUPPLIES
THE FORCE OF VENGEANCE
SUPERNATURAL ABUNDANCE
BUILDING A GODLY GENERATION
BUSINESS SECRETS
DEMONSTRATING LOVE FOR YOUR NATION
GOD'S MEDICINE
TOTAL DOMINION
THE SKILLFULL AMBASSADOR
THE MASTER KEY
KEYS TO THE TOP
THE POWER OF HIS RESURRECTION
TOUCH OF EXCELLENCE
HOLY SPIRIT MY HELPER
THE EXEMPLARY FATHER
THE POWER OF PRAISE
WISDOM QUOTES (VOLUME 1 & 2)
SEE YOU AT THE TOP among others
David Ibiyeomie believes in reaching out to the lost at all cost. In a bid of achieving this, he goes out for personal evangelism every week despite his busy schedule. He ministers both locally and internationally in outreaches and other outdoor miracle programs such as:
Calabar Miracle Crusade
Lagos Miracle Crusade
Warri Miracle Crusade
Campus Crusades – University Of Port Harcourt , Port Harcourt
Polythecnic & Yakubu Gowon Stadium.
Bayelsa Miracle crusade
Maryland Miracle crusade
Festival of Miracles Maryland
GLORY, POWER AND MIRACLE Crusades (ABUJA, OWERRI, ASABA)
These have produced landmark testimonies.
David Ibiyeomie is joyfully married to his beautiful wife, Pst. Mrs. Peace Ibiyeomie and they are blessed with a son, David Ibiyeomie.