Joel Osteen
TOPIC- I am Fearfully and Wonderfully Made Devotional for (May

23

2018) by Joel Osteen
I am Fearfully and Wonderfully Made
TODAY'S SCRIPTURE:
"I will praise You, for I am fearfully and wonderfully made; marvelous are Your works, and that my soul knows very well."
(Psalm 139:14, NKJV)
TODAY'S WORD:
David said in Psalm 139, "God, I praise You because You have made me in an amazing way. What You have done is wonderful." Notice what followed David's "I am." He was not in pride but in praise to God.
Support the Good work on this Blog Donate in $ God Bless you
[jetpack_subscription_form title="GET FREE UPDDATE VIA EMAIL" subscribe_text="JOIN OTHER CHRISTIANS GET UPDATE BY EMAIL" subscribe_button="Sign Me Up" show_subscribers_total="1"]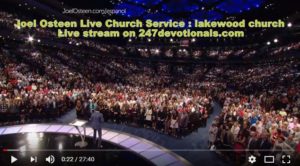 Now, that goes against human nature. Most of us think, "There's nothing amazing about me. Nothing wonderful. I'm just average. I'm just ordinary." No, the fact is there is nothing at all ordinary about you! You have a fingerprint that nobody else has. There will never be another you. Even if you have a twin, they don't have your same personality, your same goals, or your same fingerprints. You are an original. When God made you, He threw away the mold. When you say, "I am wonderful, I am attractive, I am vibrant," not only does vitality, youth and freshness start coming your way, but on the inside, your spirit rises up. Your self-image begins to improve, and you start carrying yourself like you're someone special. You no longer drag through the day feeling inferior. You have that spring in your step, that "go after it" attitude.
Today, get in agreement with God. Declare what He declares about you. Declare, "I am fearfully and wonderfully made." See yourself the way God sees you and experience all He has for you!
PRAYER FOR TODAY:
Father, thank You for making me in Your image. Thank You for equipping me with everything I need for life and godliness. I will say what You say about me so I can be everything You've created me to be in Jesus' name. Amen.