Topic: Leaders Also Give
[DCLM Daily Manna 4 February 2019 Daily Devotional by Pastor William Folorunso Kumuyi] Text: Nehemiah 7:70-73 (KJV)
Key Verse: "And some of the chief of the fathers gave unto the work. The Tirshatha gave to the treasure a thousand drams of gold, fifty basons, five hundred and thirty priests' garments" (Nehemiah 7:70).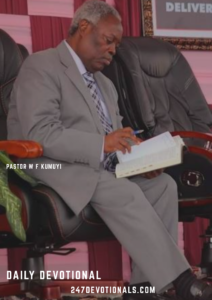 MESSAGE:
A cleric who doubled as a writer decided on a discreet way of giving to the church and his immediate community. As he was not on salary but generously supported by the Household of God, he began to churn out great books that were instant best-sellers. When asked to take possession of the huge fortune that was coming his way through his writings, he demurred. He turned over the enormous proceeds to the church and the needy saying: "I need also to give to God the same way I serve Him through pastoring."
He was following in the footsteps of Nehemiah, who with Ezra the priest, championed the rebuilding of Jerusalem after its destruction. It was a most troublous time. There were external and internal enemies that obstructed the work of God being undertaken by the Jews.
Support the Good work on this Blog Donate in $ God Bless you
[jetpack_subscription_form title="GET FREE UPDDATE VIA EMAIL" subscribe_text="JOIN OTHER CHRISTIANS GET UPDATE BY EMAIL" subscribe_button="Sign Me Up" show_subscribers_total="1"]
It is instructive that the leadership style of Nehemiah and Ezra attracted the cooperation of the people, notably in the matter of giving for the work of God. In addition to his work as the governor of the land, he was not behind in also giving for the project. He and the leaders gave generously.
True stewards in God's service do not rest on their oars while there is work to do in the Lord's vineyard. They roll their sleeves and plunge themselves neck-deep in work the same way their brothers and sisters are doing. By so doing, they build His church in readiness for the imminent return of His Son.
Thought For The Day: Armchair leadership easily wrecks the ship of the church.
Bible Reading In One Year: Matthew 14-16