DCLM Daily Manna 30 March, 2018
Topic: His Universal Atonement [DCLM Daily Manna Friday March 30, 2018]
Text: Hebrews 9:24-28 (KJV)

Key Verse: "So Christ was once offered to bear the sins of many; and unto them that look for him shall he appear the second time without sin unto salvation" (Hebrews 9:28).
MESSAGE:
As some missionaries fled for their lives from some Chinese bandits, a nightfall overtook them. They huddled together in an old abandoned building. It was filthy and vermin infested. Among the fleeing missionaries were Archibald Glover and his family. After a wretched night, little Hendley Glover said, "Daddy, I think Jesus must have slept in a place like this when he had no where to go." "Yes my boy, I think it is very likely" answered Archibald. Then little five years old Hendley said, "Then we ought to be glad to be like Jesus and suffer for Him!"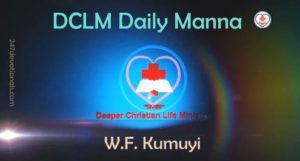 Every human has an appointment to die the physical death. However, Jesus offered Himself as a universal sacrifice so that we would not have to die spiritually. Spiritual death is eternal separation from God. This is what translates to eternal suffering in the lake of fire. It is evident that the sacrifice of Christ is infinitely better than those of the law.
Christ's sacrifice, though offered upon earth, was by Himself carried up into heaven and is there presented by the way of daily intercession as He appears in the presence of God for us. He has gone to heaven not just to rest from His labours but to present us to God, perfect all our affairs and finally prepare a place for us.
Support the Good work on this Blog Donate in $ God Bless you
[jetpack_subscription_form title="GET FREE UPDDATE VIA EMAIL" subscribe_text="JOIN OTHER CHRISTIANS GET UPDATE BY EMAIL" subscribe_button="Sign Me Up" show_subscribers_total="1"]
For all men, our sojourn here on earth is but for a probation which should be used as a period of preparation to meet our God. Jesus became the Lamb of God that was slain for the salvation of mankind so that all can have access to the Father.
Thought For The Day: In Christ's alone resides full salvation.
Bible Reading in one Year: Judges 1-2
If you missed yesterday devotional, please click to read "Deeper Christian Life Ministry, DCLM Daily Manna HERE
DCLM Daily Manna 30 March, 2018 written by Pastor William Folorunso Kumuyi; is the founder and General Superintendent of the Deeper Life Bible Church situated at KM 42 on the busy Lagos-Ibadan Expressway, Nigeria.