Topic: Find Perfect Peace
[DCLM Daily Manna 29 December 2018 Daily Devotional by Pastor William Folorunso Kumuyi] Text: Isaiah 26:1-11 (KJV)
Key Verse: "Thou wilt keep him in perfect peace, whose mind is stayed on thee: because he trusteth in thee" (Isaiah 26:3).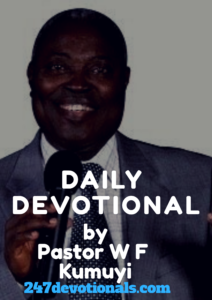 MESSAGE:
On a Sunday morning in August, 1875, the vicar of Harrogate, Canon Gibbon, happened to preach from the text, "Thou wilt keep him in perfect peace whose mind is stayed on thee," and alluded to the fact that in the Hebrew language, the words are "Peace, Peace" twice repeated, and happily translated in the 1611 translation by the phrase, "Perfect Peace". He emphasised that perfect peace could only be found in Jesus Christ. This sermon gave birth to Bishop Edward Henry Bickersteth's great hymn "Peace, perfect peace, in this dark world of sin? The blood of Jesus whispers peace within". Truly, only the blood of Jesus can guarantee perfect peace.
We can never avoid strifes in the world, but with God we can know perfect peace even in turmoil. When we are devoted to Him, our whole attitude is steady and stable. With God's unchanging love and mighty power, we are not perturbed by the raging sea. From our text, the affirmation of God's protection and peaceful life for the righteous is vividly presented. He is our everlasting strength, we must trust in Him to bring all things to pass.
Support the Good work on this Blog Donate in $ God Bless you
[jetpack_subscription_form title="GET FREE UPDDATE VIA EMAIL" subscribe_text="JOIN OTHER CHRISTIANS GET UPDATE BY EMAIL" subscribe_button="Sign Me Up" show_subscribers_total="1"]
However, there are conditions to be fulfilled before you become beneficiaries of His perfect peace and divine protection. Only when you focus your mind on Him, trust in Him, desire Him with all your heart and patiently wait for Him that you can experience perfect peace."Come unto me, all ye that labour and are heavy laden, and I will give you rest", says the Lord.
Thought For The Day: Life without Christ is a life of crisis.
Bible Reading In One Year: Revelation 6-11