DCLM Daily Manna 20 April, 2018 by Pastor Kumuyi
Topic: The Greatest Question [DCLM Daily Manna Friday April 20, 2018]
Key Verse: "LORD, who shall abide in thy tabernacle? who shall dwell in thy holy hill?"(Psalm 15:1).
MESSAGE:
Many people live as if they would continue on the earth forever. Their ambitions, plans, conduct and dispositions are all earth-bound. They labour endlessly to be acclaimed as masters of the universe. Their thoughts never stretch beyond this realm of the flesh. They are at best mildly irritated, and at worst frightened by any talk of life after life. They wilfully side-step the greatest question of what happens after this life.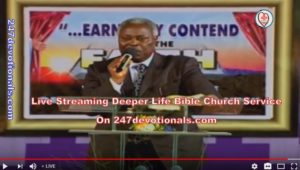 It takes only the wise to ruminate on the fact that life cannot possibly end here on earth. David knew this, and he acknowledged that the greatest thing that can happen to any man is to be reunited with his Creator when life on earth comes to an end. He sought to know those that would be privileged enough to reside in God's holy Hill. The response he got from God was just as simple as it was profound. God told him that the upright, who are not slanderous, who do not perpetrate evil against others, but who stand against evil people; those that honour God, who are truthful, trustworthy and are not exploitative or fraudulent, have their place reserved in heaven. "He that doeth these things shall never be moved," the Lord told David.
Support the Good work on this Blog Donate in $ God Bless you
[jetpack_subscription_form title="GET FREE UPDDATE VIA EMAIL" subscribe_text="JOIN OTHER CHRISTIANS GET UPDATE BY EMAIL" subscribe_button="Sign Me Up" show_subscribers_total="1"]
All men will live forever, although not all will end in the same destination. Some will turn up in hell to serve punishment eternally for their sinful conducts. Others will spend eternity – time without end – in heaven. To enjoy this privilege, you should turn away from all things that contravene His holy standards. Accept the ultimate price Christ paid for your sins, receive Him as your Saviour, and live to please Him for the rest of your life.
Thought For The Day: Jesus is the answer to life's greatest question.
Bible Reading in one Year: Psalms 121; 123-125; 128-130
If you missed yesterday devotional, please click to read Deeper Christian Life Ministry, DCLM Daily Manna HERE
DCLM Daily Manna was written by Pastor William Folorunso Kumuyi; is the founder and General Superintendent of the Deeper Life Bible Church situated at KM 42 on the busy Lagos-Ibadan Expressway, Nigeria.
Lord Jesus, come into my life. I accept You as my Lord and Personal Saviour. I believe in my heart You died and rose from the dead to save me. Thank You Lord for saving me, in Jesus name Amen.