Billy Graham's Daily 7 March 2018 Devotional
Topic: The Divine Standard [Billy Graham's Daily Wednesday March 7th, 2018]
For salvation that comes from trusting Christ . . . is already within easy reach of each of us . . . — Romans 10:8 (TLB)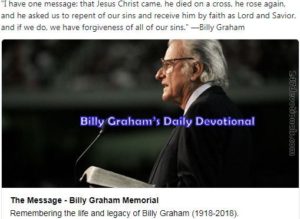 Christ said there is a happiness in that acknowledgment of spiritual poverty which lets God come into our souls. Now, the Bible teaches that our souls have a disease. It causes all the troubles and difficulties in the world. It causes all the troubles, confusions, and disillusionments in your own life.
Support the Good work on this Blog Donate in $ God Bless you
[jetpack_subscription_form title="GET FREE UPDDATE VIA EMAIL" subscribe_text="JOIN OTHER CHRISTIANS GET UPDATE BY EMAIL" subscribe_button="Sign Me Up" show_subscribers_total="1"]
Billy Graham's Daily 7 March 2018 Devotional
The name of the disease is an ugly word. We don't like to use it. It is "sin." All of us have pride. We do not like to confess that we are wrong or that we have failed. But God says, "All have sinned and come short of the glory of God." We have failed to live up to the divine standard. We must confess our sin as the first step to happiness, peace, and contentment.
Prayer for the day: Pride kept me so long from acknowledging my need of You, Lord. Each day, help me to realize I am nothing without You.
Written by Billy Graham, Founder of Billy Graham Evangelistic Association(BGEA). BGEA exists to proclaim the Gospel of Jesus Christ by every effective means and to equip the church and others to do the same.