Topics: Sin, Temptation
Practice the Fruits of the Spirit
By Billy Graham
February 26
But when the Holy Spirit controls our lives he will produce this kind of fruit in us: love, joy, peace, patience, kindness, goodness, faithfulness, gentleness and self-control . . .
—Galatians 5:22,23 (TLB)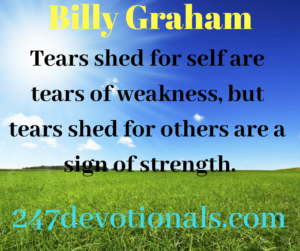 Christ can rid you of inner conflict. Man without God is always torn between two urges. His nature prompts him to do wrong, and his conscience urges him to do right. Antagonistic desires and crossed-up emotions keep him in a state of personal instability. Medical men have almost concluded that this conflict is the basis of much physical breakdown and nervous collapse. Many doctors now believe that among the contributing causes of the common cold are stress, tension, and inner conflict. Paul must have been in the midst of such a personal civil war when he cried, "O wretched man that I am! Who shall deliver me from the body of this death?" Then he answered his own question when he said, "I thank God through Jesus Christ our Lord."
Read more about how to practice the fruits of the spirit in your life.
Support the Good work on this Blog Donate in $ God Bless you
[jetpack_subscription_form title="GET FREE UPDDATE VIA EMAIL" subscribe_text="JOIN OTHER CHRISTIANS GET UPDATE BY EMAIL" subscribe_button="Sign Me Up" show_subscribers_total="1"]
Prayer for the day
Only Your Holy Spirit, Lord, can control my innermost feelings. Help me to be conscious of Your presence this day.