Topic:God, the Peacekeeper
By Billy Graham • May 1
He will keep in perfect peace all those who trust in him, whose thoughts turn often to the Lord!
—Isaiah 26:3 (TLB)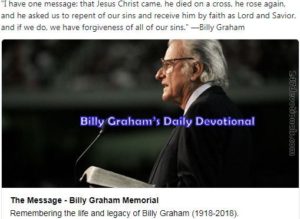 You have an ego-a consciousness of being an individual. Of course, you do. But that doesn't mean that you are to worship yourself, to think constantly of yourself, and to live entirely for yourself. Common sense tells you that your life would be miserable if you followed that course. God is infinitely more concerned about your happiness than you could possibly be. He says, "Deny yourself, and follow me." There is many a person in the insane asylum today who thought excessively about himself, to the exclusion of God and others. Hypochondriacs who have a fanciful anxiety about their health will never be well, regardless of their physical condition.
Complete this free Anne Graham Lotz Bible study with friends to know the peace of God better.
Find peace with God today.
Support the Good work on this Blog Donate in $ God Bless you
[jetpack_subscription_form title="GET FREE UPDDATE VIA EMAIL" subscribe_text="JOIN OTHER CHRISTIANS GET UPDATE BY EMAIL" subscribe_button="Sign Me Up" show_subscribers_total="1"]
Prayer for the day
Keep my mind on You, Lord, and help me to discipline the thoughts of self which crowd out Your peace.