April 6th Devotional Sorrow Not! By Kenneth Copeland
TOPIC- Sorrow Not! a Devotional written By Kenneth Copeland
The redeemed of the Lord shall return, and come with singing unto Zion; and everlasting joy shall be upon their head: they shall obtain gladness and joy; and sorrow and [grief] shall flee away. Isaiah 51:11
Did you know that as a believer you've been redeemed from the curse of grief and sorrow by the blood of Jesus Christ? You don't have to put up with them any more than you have to put up with sin or sickness or disease.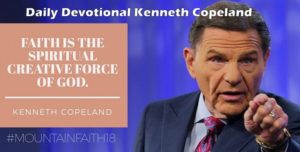 April 6th Devotional Sorrow Not! By Kenneth Copeland
God started teaching me about this personally several months before my mother went home to be with Him in August 1988. Every time He'd show me something about it, I'd put it into practice. (You ought to do that with anything God is teaching you. Start practicing it now, and you can walk in it when the time comes!)
So, eight and a half months before my mother left, I began standing against grief and sorrow. I made a decision to "sorrow not." Immediately the devil began to attack my emotions.
Support the Good work on this Blog Donate in $ God Bless you
[jetpack_subscription_form title="GET FREE UPDDATE VIA EMAIL" subscribe_text="JOIN OTHER CHRISTIANS GET UPDATE BY EMAIL" subscribe_button="Sign Me Up" show_subscribers_total="1"]
 Sorrow Not! By Kenneth Copeland
But I'd say, "No. I won't receive that. I take authority over these feelings in Jesus' Name. I've given my body as a sacrifice well-pleasing unto the Lord, and I won't partake of anything but His joy." Then I'd start speaking the Word and praising out loud.
I went through three rugged days of resisting until those sorry spirits were gone.
What I'm telling you is this: You're going to have to stand against grief and sorrow. It doesn't belong to you. It's not from your heavenly Father. You may have to walk the floor all night long. But instead of worrying and crying, walk the floor and quote the Word until that heavy spirit leaves and the joy of the Lord comes. More from Kenneth Copeland 2018
Remember who you are. You're the one who shall obtain gladness and joy. You're the one sorrow and grief shall flee away from. You are the redeemed!