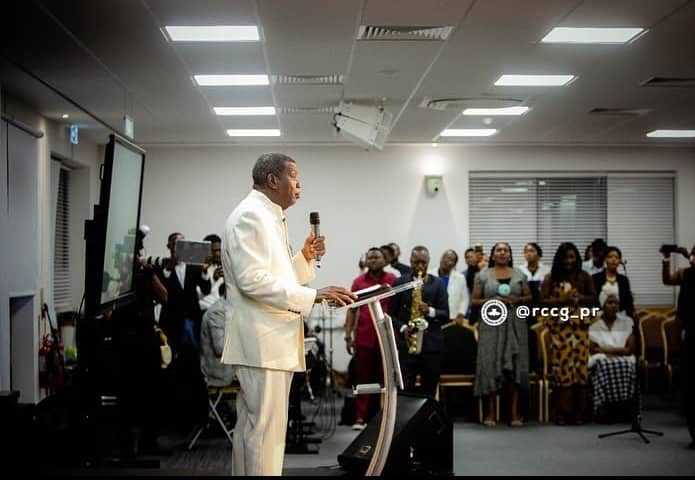 PROPHECIES/WORD OF KNOWLEDGE DURING THE RCCG JULY 2023 HOLY GHOST SERVICE
THEMED: "THE ALL-SUFFICIENT GOD (THE WONDERS OF HIS SUFFICIENCY)" BY PASTOR E.A ADEBOYE.
1. Thank You Father!
The Lord says there is for somebody here tonight, or reading now
He said the one who is Ordained to bring about your Promotion will have a Special Dream tonight – Amen.
2. Thank You Father!
Some of you would remembered the Story of a boy whose Parents are Professors at University of Ibadan but the boy was so dull. You can imagine, the father a Professor, the mother a Professor but the boy?
He was always at the bottom of the Class. And moving from a class of twenty five (25) to a Class of thirty (30), his Position would move from twenty-fifth (25th) to thirtieth (30th).
And then the Parents got Born Again, and brought the boy; and we Prayed a Simple Prayer for the boy and God intervened.
In the next Examination, the boy took first (1st).
The Teachers said it is not Possible. They said even if they gave him the Answers to copy, he will copy it wrongly. So they gave him another exam and he scored higher.
So he became a Surprise to his Lecturers.
I told you the Story because God said: There is someone here today or reading now on the Label of DMC; that from now, your Academic Performance will Surprise your Teachers – Amen!
3. Thank You Father!
I'm sure you know the Story of David and Goliath – We all know the Story.
But many of us don't pay attention to something David did – You know, when he got to the brook, the Bible said he took five (5) "Smooth Stones'.
He was going to fight Goliath but he took five (5) "Smooth Stones".
It is later on as you Study the Bible further that you would discovered that Goliath had four (4) brothers.
David didn't know, but he just took five (5) Stones – Guided by the Holy Spirit. One (1) Stone for Goliath, four (4) Stones for his brothers.
The Lord asked me to tell you (Somebody in Particular) or a Reader on the Label of DMC – He said He will take care of your Goliath; and He will take care of all his allies (Amen).
4. My Daddy asked me to say this one:
That one day Somebody is going to Stand here to Testify that five (5) People died in a row in their family.
And then they will remembered that God said: "I will take care of your Goliath and all his allies" – Amen.
5. This one is my own – Amen!
The Lord says, there is Someone who is expecting one (1) Open Door.
He asked me to tell you: Before the end of the Year (2023), I will open Seven (7) – Amen.
So you can begin to count them – Maybe when they are seven (7) you will come and Testify.
6. I know it's a Special Night!
Daddy asked me to remind you of the Story of one of my daughters – Her boss in her Place of work was harassing her because she refused to Compromise. So he told her, "there will be no Promotion for you as long as I am here."
And then we Prayed a Simple Prayer; and God got the boss transferred to another Section of the Company. And my daughter was Promoted to the Position he vacated.
As soon as my daughter settled down, they brought the former boss back – So they were now on equal level.
Well, the Lord asked me to tell someone that Story – He said: "I am going to put you in a Place where no man would ever be able to harass you again" – Amen.
7. Maybe one of these days (if I remember) I will tell you a Story:
But all that God wants me to tell you now is that there is Somebody here or reading now on the Label of DMC, who has just lost a very big Opportunity.
And the Lord asked me to tell you in a Parable that: "You missed the Train so that you will not miss the Plane" – Amen.
Support the Good work on this Blog Donate in $ God Bless you
[jetpack_subscription_form title="GET FREE UPDDATE VIA EMAIL" subscribe_text="JOIN OTHER CHRISTIANS GET UPDATE BY EMAIL" subscribe_button="Sign Me Up" show_subscribers_total="1"]
When the time comes, you will understand!
No matter how fast the Train can move, it can only move on Land. The Plane can fly!
It's a Joy if you miss The Train so that you don't miss the Plane – Amen.
8. Oh! My God, Thank You!
… I like this one that is why I laughed.
The Lord said there is Someone here, or reading now on the Label of DMC – He said: All Human Sciences are saying to you, "it is too late".
Daddy asked me to tell you, "I will defeat all Sciences with a Wonder – Amen.
9. Oh My Father, You are Good!
The Lord asked me to tell Someone Inclusive those reading now on the Label of DMC: Jonah spent three (3) Nights in Total Darkness; but he was still brought out into the Light and still fulfilled Destiny.
He asked me to tell you: Your third (3rd) Night is Tonight! You will still fulfill Destiny – Amen.
10. This one is mine again, but I will just Share it with you (and I am about to Close):
I told you that years ago, I went to the East (DMC NOTES: Eastern Part of Nigeria).
As I was returning and I got to Asaba (Delta State of Nigeria) and I was Standing there waving every car to see if they would give me a lift to Lagos;
And if you are looking for a lift; you are looking for 'Kabu-kabu' (DMC NOTES: "Kabu-Kabu" means: An informal Term used for a Taxi Cab that Plies Designated Routes) – So you look for a car that looks as if the owner wants to make some "Quick Money" by giving you a lift and Charging you.
So all the old cars that I saw, I waved them down but none of them stopped.
Then I saw this Brand New Mercedes Benz Car 280 – It was coming; and when I saw how Brand New it is, I didn't bothered to wave because this Person is not going to pick up anybody.
But I just raised my hand and I didn't quite wave; and the car passed by. And all of a sudden he stopped and reversed to where I was Standing.
And he said, you need a lift? I said, yes Sir! "Where are you going?" I said, Lagos.
He said, come in. And you know, I was Standing by the roadside, he was at the driver's seat. When I entered, I sat at the 'owner's corner' and there was somebody with him in the front.
… By the way, they were talking, they were speaking American English.
I remembered telling you that Story to you once before.
When God asked me to Prophesy to somebody that – All the Miracles that have Passed by you, will reverse back – Amen!
But that's not even the Prophecy for tonight).
I was sitting down in the air-conditioned car. I mean, I enjoyed myself all the way to Lagos.
So we got to Palm Groove (in Lagos State) and the man branched to refuel at one Petrol Station.
And he said to me, sorry Sir, give me some one (1) minute, I want to refuel.
I said, thank you Sir, we are already in Lagos. I will take a taxi from here to my house.
He said, No! Where do you live? I said, Surulere ,(In Lagos State Nigeria).
He said, just give me few Minutes, I will take you all the way home!
My Daddy asked me to tell Someone here tonight or reading now on the Label of DMC: I will help you all the way – Amen!
Oh, if you are the one, spend a Minute or two (2) Minutes Thanking God.
Say: Lord, I Thank You. I know You will help me all the way, I Thank You.
If that's the only thing I have heard tonight, that is enough for me, Lord. Thank You Lord. May your Name be Glorified!
The Great Mouth of "THE ALL-SUFFICIENT GOD" Himself – The One whose Wonders are Sufficient; has Spoken His Words into our ears and He will Speedily fulfill His Words in our lives!