Open Heaven 2 June 2019 Sunday Daily Devotional By Pastor E. A. Adeboye – Be Your Brother's Keeper
Click HERE for Previous Open Heaven Devotional
Topic: Be Your Brother's Keeper (Open Heaven 2 June 2019)
Memorise: "Let every one of us please his neighbour for his good to edification."- Romans 15:2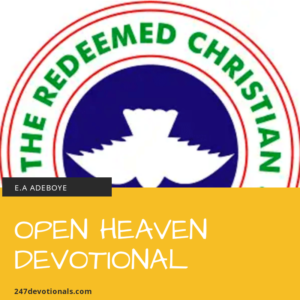 Read: Romans 15:1-6 (KJV)
1 We then that are strong ought to bear the infirmities of the weak, and not to please ourselves.
2 Let every one of us please his neighbour for his good to edification.
3 For even Christ pleased not himself; but, as it is written, The reproaches of them that reproached thee fell on me.
4 For whatsoever things were written aforetime were written for our learning, that we through patience and comfort of the scriptures might have hope.
5 Now the God of patience and consolation grant you to be likeminded one toward another according to Christ Jesus:
6 That ye may with one mind and one mouth glorify God, even the Father of our Lord Jesus Christ.
Bible in One Year: Leviticus 19-20, Jeremiah 48:21-39
Support the Good work on this Blog Donate in $ God Bless you
[jetpack_subscription_form title="GET FREE UPDDATE VIA EMAIL" subscribe_text="JOIN OTHER CHRISTIANS GET UPDATE BY EMAIL" subscribe_button="Sign Me Up" show_subscribers_total="1"]
Open Heaven 2 June 2019 Sunday MESSAGE:
Love and compassion are the measure of true Christianity. Our Lord Jesus Christ emphasized this by identifying the commandments to love God as the first and general law, after which He declared the directive to love fellow human beings as the second most important law (Matthew 22:35-40). When we carefully consider love in line with Genesis 1:28, it instantly translates to a moral obligation. We all therefore have an obligation under God to one another, whether as leaders, pastors, married couples, parents, siblings, neighbors or simply as human beings. Scripture further stresses a stronger and higher responsibility for Christians and the Church as a result of our special privileged relationship with God. Many Christians do not have a clear understanding of the responsibilities that God has placed on us in relation to our fellow human beings. Some are still asking, "Am I my brother's keeper?" If you must know, the answer is yes. God expects you, as Christ's ambassador in this world, to be your brother's and sister's keeper. We have a responsibility to our brethren in the Lord and to the world at large, to be the salt of the earth and beacons of light in this world of darkness. We need to live a life that is true to what the Lord said about us in Matthew 5:13-14, which says:
"13 Ye are the salt of the earth: but if the salt have lost his savour, wherewith shall it be salted? it is thenceforth good for nothing, but to be cast out, and to be trodden under foot of men. 14Ye are the light of the world. A city that is set on an hill cannot be hid."
Every Christian has the responsibility to represent Jesus Christ in the world, living as channels of divine mercy and kindness, both within the Church and out in the world. Philippians 2:4-5 says:
"4 Look not every man on his own things, but every man also on the things of others. 5 Let this mind be in you, which was also in Christ Jesus:"
We must not close our ears to the cries of those who are poor in worldly goods or those poor in spirit (Luke 4:18, Proverbs 21:13). Many are desperately in need of sustenance, some are enduring diverse sicknesses and various forms of poverty, while some other are in bondage to sin and are being manipulated by the devil. We must reach out to them all with the gospel of love. Let us endeavor to correct, strengthen, and encourage each other in love along the way, making sure not to destroy anyone who falls into error as a result of one weakness or the other. Our light must shine so much that the reflection would brighten the paths of others in darkness and thereby bring glory to God.
Open Heaven 2 June 2019 Sunday Prayer Point:
Father, strengthen me to manifest as a problem solver to my generation, in Jesus' Name.
Open Heaven 2 June 2019 Sunday Hymn 5: Let Others See Jesus In You
1 While passing thro' this world of sin,
and others your life shall view,
Be clean and pure without, within;
Let others see Jesus in you.
Chorus:
Let others see Jesus in you,
Let others see Jesus in you.
Keep telling the story, be faithful and true;
Let others see Jesus in you.
2 Your life's a book before their eyes,
They're reading it thro' and thro'
Say, does it point them to the skis,
Do others see Jesus in you?
3 Then live for Christ both day and night,
Be faithful, be brave and true,
and lead the lost to life and Christ.
Let others see Jesus in you.
Open Heaven 2 June 2019 Sunday Daily Devotional guide was written by Pastor E.A. Adeboye, the General Overseer of the Redeemed Christian Church of God, one of the largest evangelical church in the world and also the President of Christ the Redeemer's Ministries. The Open Heavens devotional application is available across all mobile platforms and operating systems: iOS, Android, Blackberry, Nokia, Windows Mobile and PC. Open Heaven 2 June 2019 Sunday Daily Devotional.