Topic:The light in the darkness
DEVOTION OF MARCH 22
READ THE SCRIPTURE: EPHESIANS 5: 7-14
And do not participate in the unfruitful works of darkness, but rather repudiate them.
Ephesians 5:11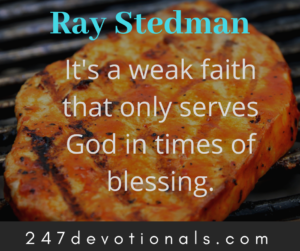 Sexual license is incompatible with the Christian faith, because the Christian has been commanded to expose the true character of sexual evil. You can not expose something and participate in it at the same time, which is totally inconsistent. The church of Jesus Christ is directed by the Holy Spirit to be a means of correct information on matters related to sex. Paul says that the church is "a pillar and defender of the truth" (1 Timothy 3:15). I do not hesitate to say today that only the church can teach the world the true nature of sex. Even serious worldly people, who claim to be totally sincere in terms of alleviating society's problems, do not see things clearly. Thus,
But the work of Christians is to defend the truths about these issues. These people should challenge false ideas, tearing off these false concepts and revealing the truth. If we needed any justification to proclaim a message like this, here we have it: The apostle says: "Do not participate in the unfruitful works of darkness, but rather rebuke them", bringing them to light, making them visible. This does not mean that we have to denounce these people. The world is not impressed, much less by the people who dedicate themselves to denouncing. What the church should do is to show the truth that is useful in regard to these things, to eliminate the lies and allow the world to know what God's purpose is with regard to sex, which must be something healthy, precious,
Young people are always looking for a cause to defend. In common with a large part of our society, they want to rebel against something. Can I suggest something? Rebel against the rebellion! Start the veils on these deceptions that seize people today, making them hope to find something precious, healthy and wonderful in terms of exploiting sex. But they will not find it. Help them to realize this, tearing these veils.
Support the Good work on this Blog Donate in $ God Bless you
[jetpack_subscription_form title="GET FREE UPDDATE VIA EMAIL" subscribe_text="JOIN OTHER CHRISTIANS GET UPDATE BY EMAIL" subscribe_button="Sign Me Up" show_subscribers_total="1"]
But the first thing you should do is wake up yourself. It is necessary to alert minds and hearts. Realize that in the Word of God we have the truth as it is. Christ will give you light, and when he does, speak about it to some person; proclaim it everywhere. Take advantage of the universal interest that currently exists on the subject, something that is perfectly appropriate. Help people to realize that this is part of the great desire of God in his redemptive love, which always wants to remove people from everything that destroys, ruins and creates misery and misery, so that there is integrity, fullness and joy, being able to lead a life as God intended us to live it. Expose these things, "because light is what manifests everything" (v. 13).
Father, grant me to be able to walk as this verse suggests I must do, shining like a light in dark places. I thank you for this privilege in this day of darkness.
Application to life
Darkness is the absence of light just as apathy is the lack of action. How do we act in order to expose the truth of the Light in the Word? When and on whose behalf do we speak?