Topic:Do You Remember?
The word of the Lord came to me: Go and proclaim in the hearing of Jerusalem: This is what the Lord says: I remember the devotion of your youth, how as a bride you loved me and followed me through the wilderness, through a land not sown. Israel was holy to the Lord, the firstfruits of his harvest; all who devoured her were held guilty, and disaster overtook them, declares the Lord.
Jeremiah 2:1-3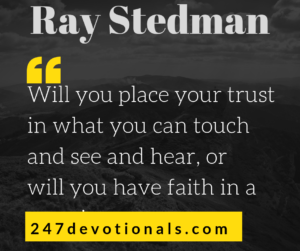 This is part of the first message of Jeremiah to the nation of Judah. It highlights for us what God has to say to someone who has begun to drift away from him. Have you ever had that problem? I find there are times in my life when, without even realizing it, I have begun to lose some of the fervor and the joy and the peace which marks the presence of God in my life, flowing through my life as it ought.
The tragic thing about that condition, as so exemplified in the nation of Judah, is that this can happen, but nobody knows what is wrong. That was happening to Judah. They really blamed God for the whole thing. That is what most of us do, too. Judah said it was God's fault, that he did not keep his promises, did not deliver them when he ought to, did not keep them from their enemies as he promised. They were charging God with gross misconduct and with inability to keep his promises.
So God has something to say to this nation. What does he say? The first thing he says is call them to look back and reflect on what life was like when you first began a love relationship. God says, I remember the devotion of your youth, your love as a bride, how you followed me. In marital counseling I have dealt with couples who have been married twenty-five or thirty years but who are having difficulties. They are tense, angry, upset, and sometimes they will not even speak to one another. I have had to sit down with couples like that and try to find a way to begin a healing process. Long ago I learned the best way is simply to say, You know, before we start, I need to get acquainted with you a little bit. Tell me something about yourselves. How did you meet, and where? You can feel the atmosphere soften, and their hearts begin to expand a bit, as they think back to the days when they were not angry or upset, but were in love, and as they remember what that meant. Half the battle is won when you can get couples thinking back to what it was like when they first knew each other.
Do you remember those first days in the relationship between you and the Lord — the wonder of love, and the joy of it? What the prophet is bringing out here is that at such a time, the loved one is the chief priority of life. No other relationship is more important than yours with him, or his with you. He is preeminent in your affection. This is what God is wanting you to recall. This is the first thing God says to a heart which has begun to drift — Remember, remember — what it was like when you were secure in my affections, separate unto me, like Israel, holy to The Lord and exclusively his. Remember that you are the first fruits of his harvest. Remember that you are safe — I protect you. Do you remember your first days?
Support the Good work on this Blog Donate in $ God Bless you
[jetpack_subscription_form title="GET FREE UPDDATE VIA EMAIL" subscribe_text="JOIN OTHER CHRISTIANS GET UPDATE BY EMAIL" subscribe_button="Sign Me Up" show_subscribers_total="1"]
Thank you, Father, for the way you call me back to my first love with you.
Life Application
'The bride eyes not her garments but her dear Bridegroom's face.' Have we become so self-consumed we have lost our focus on our Bridegroom? Do we need to return to our first-love?