Topic:JESUS' AUTHORITY HAS BEEN GIVEN TO US
Matthew 28:18–19
And Jesus came and spoke to them, saying, "All authority has been given to Me in heaven and on earth. Go therefore…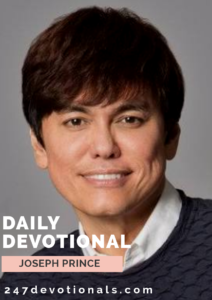 When God created man, He gave man authority to have dominion over everything on earth (see Genesis 1:26). But when man sinned, he gave this authority to Satan. And when man's authority was transferred to Satan, Satan brought in diseases, poverty, strife, bitterness, pain, loss and death. He messed up everything on earth for man.
"Pastor Prince, why didn't God just grab the devil by the neck and throw him out of the garden?" God did not do that because He is a judicial God. It was a man who gave away his authority to Satan. So it had to be a man who would legally take it back. And God has done this through a Man. His name is Jesus!
By His death on the cross, Jesus righteously restored all that man had lost. That is why, just before He went back to heaven, He said, "All authority has been given to Me in heaven and on earth. Go therefore…" Those words tell us that He has transferred His authority to us. The same authority that He had over the storm, evil spirits, sicknesses, diseases and even death is now ours to use.
Support the Good work on this Blog Donate in $ God Bless you
[jetpack_subscription_form title="GET FREE UPDDATE VIA EMAIL" subscribe_text="JOIN OTHER CHRISTIANS GET UPDATE BY EMAIL" subscribe_button="Sign Me Up" show_subscribers_total="1"]
So when there are reports of a flu epidemic and of young children falling sick in the media, know that you have dominion over the epidemic. Declare, "By the authority given to me in the name of the Lord Jesus Christ, this flu virus will not come near my children. I plead the blood of Jesus over them."
If you have been told that your family has a history of heart disease, take dominion and declare, "By the authority given to me in the name of the Lord Jesus Christ, I destroy every form, manifestation and hereditary cause of this disease. By His blood, my family has been redeemed from this and every other curse."
My friend, the authority which has been restored to us is not just the authority on earth which man had before the fall, but Jesus' unquestionable and complete authority in heaven and on earth!