Topic: God's Choice Is The Best
[DCLM Daily Manna 14 April 2019 Daily Devotional by Pastor William Folorunso Kumuyi] Text: Proverbs 18:13-24 (KJV)
Key Verse: "Whoso findeth a wife findeth a good thing, and obtaineth favour of the LORD" (Proverbs 18:22).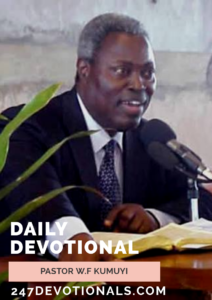 MESSAGE:
Several newspaper in Nigeria recently carried the sorrowful story of a woman that stabbed her husband to death as a result of a minor misunderstanding. This story brings to the fore, the universal aphorism that not all married women are wives. Similarly, not all married men are husbands. Some women are disguised foes to their spouses. Such women desert their spouses in times of troubles such as loss of job, illness or accidents.
The text mentions sundry issues among which is the importance of a good wife. A good wife is a great blessing to a man and a token of divine favour. A man who finds a wife finds a treasure of priceless value and is a clear evidence that the man has received favour from the Lord.
A man can only receive the favour of God by yielding his life to Christ through sincere repentance unto God, faith in Christ Jesus and obedience to divine guidance. To get God's favour, one needs to trust in Him and seek His mind when one wants to choose a life partner. A wife cannot be got through carnal match-making, friends or parents' suggestion. Match-making is the exclusive work of the Holy Spirit. Choice of a marriage partner based on physical appearance, level of education, family background, tribe and race, will only result in regret and sorrow.
Support the Good work on this Blog Donate in $ God Bless you
[jetpack_subscription_form title="GET FREE UPDDATE VIA EMAIL" subscribe_text="JOIN OTHER CHRISTIANS GET UPDATE BY EMAIL" subscribe_button="Sign Me Up" show_subscribers_total="1"]
Marriages that have been contracted wrongly can be corrected by Christ, if the two partners involved come to Calvary with readiness to obey Christ's precepts. Any marriage between a believer and unbeliever is nothing short of unequal yoke and this is against the revealed will of God in the Scriptures. A wife provided by God is the best friend any man can have on earth as she will stick to the man in sorrow, joy, poverty, wealth, health or in sickness.
Thought For The Day: God is the perfect Matchmaker!
The Bible In One Year: Acts 13-14