Topic: Have Mercy Lord
[DCLM Daily Manna 5 November 2019 Daily Devotional by Pastor William Folorunso Kumuyi] Text: Lamentations 5:1-22
Key Verse: "Remember, O LORD, what is come upon us: consider, and behold our reproach. Our necks are under persecution: we labour, and have no rest" – (Lamentations 5:1,5).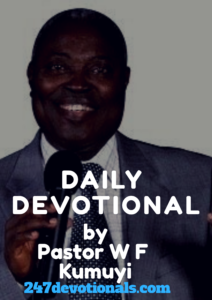 MESSAGE:
When Karl Marx, a German philosopher and economist, said that "Religion is the opium of the people", he may be referring to people who had been abandoned by their governments but see religion as a source of succour. Rather than look to government for even the minutest basic things of life as water, healthcare, enabling environment for entrepreneurial business to thrive, citizens depend on God. Every day, prayers ascend to heaven, as people lament to the Almighty for mercy.
It was a period of distress in Israel. The opening word "Remember" is used as a plea to God, not that God forgets. His children plead to Him to remember and to enact his promises to deliver them from their dire circumstances. In their captivity, the people were helpless as orphans and widows.
After the destruction of Jerusalem, the poorest of the land were left by the Babylonians. The picture here may be that these poor Israelites, who were left in the land, had to buy water and wood which were formerly theirs. They were now strangers and lived as forced slaves in their own land as well as abroad. They were humiliated.
There was a time when Christians were a reference point in our society. They were sought after in many companies because of their aura that eschewed any form of sin. They added value to organisation where they worked. But gradually, because of compromise, they lost the privilege and with the passage of time, they became worldly and hypocritical. But whatever is the case, our God is always ready to forgive. We must return to Calvary.
Support the Good work on this Blog Donate in $ God Bless you
[jetpack_subscription_form title="GET FREE UPDDATE VIA EMAIL" subscribe_text="JOIN OTHER CHRISTIANS GET UPDATE BY EMAIL" subscribe_button="Sign Me Up" show_subscribers_total="1"]
THOUGHT FOR THE DAY: He who does not realise the source of his problem is likely to remain in perpetual servitude.
THE BIBLE IN ONE YEAR: Jeremiah 43-45