Topic: Prayer Power
[DCLM Daily Manna 3 October 2018 Daily Devotional] Text: Daniel 6:4-22 (KJV)
Key Verse: "Now when Daniel knew that the writing was signed, he went into his house; and his windows being open in his chamber toward Jerusalem, he kneeled upon his knees three times a day, and prayed, and gave thanks before his God, as he did aforetime" (Daniel 6:10).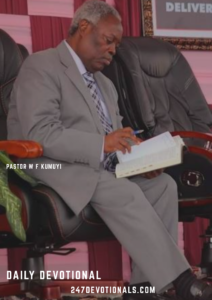 MESSAGE:
Sidlow Baxter once said, "Men may spurn our appeals, reject our message, oppose our arguments, despise our persons – but they are helpless against our prayers". We all pray because we all come to that period in our lives when we realise our helplessness in handling certain matters. Sometimes, the issues at hand are simply beyond us and we are left with no other choice than to pray.
For Daniel, however, prayer was a pleasure. The man loved to pray. It was part of his daily routine to pray three times. His house was a veritable prayer altar. Though he was surrounded by people who did not appreciate his prayerfulness, he was more diligent and efficient and they all knew this. His critics could not find any fault in him, so they attacked his belief in God. They wanted him to stop praying. They made the king to sign a decree that outlawed prayers to God within 30 days. Daniel ignored the law and kept his prayer appointment with God as usual. They promptly got him arrested for breaking the no-prayer law and eventually he was given the stipulated punishment. He was thrown into the lions' den. But the following day, when the king hurried to the den, he found Daniel safe and unhurt by the hungry carnivores. Surely God answers prayers.
Support the Good work on this Blog Donate in $ God Bless you
[jetpack_subscription_form title="GET FREE UPDDATE VIA EMAIL" subscribe_text="JOIN OTHER CHRISTIANS GET UPDATE BY EMAIL" subscribe_button="Sign Me Up" show_subscribers_total="1"]
The beauty of prayer is that everyone can pray. To effectively utilise prayer power like Daniel, pray in the name of Jesus and make sure you obey His word. Then, you too will survive in any situation comparable to the lion's den. However, not every prayer is acceptable; the prayer of the wicked is abomination unto God. It is the effectual, fervent prayer of the righteous that avails much. The strength of Daniel was his righteous and holy mien. It takes such comportment and determination to truly enjoy and benefit from the prayer process.
Thought For The Day: Prayer is the voice of Faith.
Bible Reading In One Year: Matthew 2; Luke 2:39