Topic: Certainty Of Divine Prophecy
[DCLM Daily Manna 22 November 2019 Daily Devotional by Pastor William Folorunso Kumuyi] Text: Isaiah 21:11-17
Key Verse: "For thus hath the Lord said unto me, Within a year, according to the years of an hireling, and all the glory of Kedar shall fail" (Isaiah 21:16).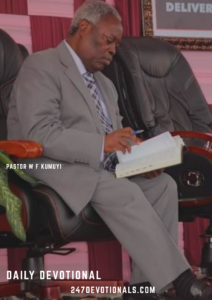 Between 1946 and 1956 in the Dead Sea region of Palestine, young Bedouin shepherds and a team of renowned archaeologists discovered scrolls that contained original writings of the Hebrew prophets, volumes of which have come to us as the Holy Bible. When the manuscripts were decrypted scientifically, they were found to date back to 400 years before Christ. Fragments of Qumran Papers, as the scrolls came to be known, proved the veracity of prophecy concerning the rise and fall of nations and empires as predicted by the servants of God. Some of these forecasts were eschatological while others were fulfilled instantaneously or within years.
In the case of our text today, Isaiah prophesied that the nomadic warriors of Arabia would be wiped out within the period of one year as revealed to him by the Lord. Bible scholars say his mention of Kedar in our key verse is a reference to the area east of the Dead Sea, forming the central region of the northern part of the Arabian peninsula. It was in that era of the Assyrian domination, when the Arabian caravans roamed in trade throughout southeast of Jerusalem. That was not their normal route, as the powerful Assyrians had disrupted it.
That was not the only headache in that part of the world. The Assyrian army was also overrun Ashdod, Palestine and Babylon, with Edom (Dumah) siding with Ashdod. Instead of calling on God for help against Assyria, Edom went to Judah. It was then God's answer came through Isaiah.
God still reveals His plan for the future to man. Those who seek Him sincerely for deliverance from sin and for guidance in the wilderness of life will always locate Him.
Support the Good work on this Blog Donate in $ God Bless you
[jetpack_subscription_form title="GET FREE UPDDATE VIA EMAIL" subscribe_text="JOIN OTHER CHRISTIANS GET UPDATE BY EMAIL" subscribe_button="Sign Me Up" show_subscribers_total="1"]
THOUGHT FOR THE DAY: God is ever at it
THE BIBLE IN ONE YEAR: Ezekiel 39-41