Topic: Lesson From A Leper
[DCLM Daily Manna 1 December 2018 Daily Devotional by Pastor William Folorunso Kumuyi] Text: Luke 17:12-19 (KJV)
Key Verse: "And one of them, when he saw that he was healed, turned back, and with a loud voice glorified God" (Luke 17:15).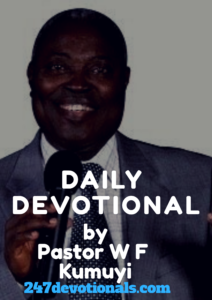 MESSAGE:
An African adage says, if you express profound gratitude for a favour received, there is a certainty that you would take home more blessing. In other words, if prudently handled, one blessing could pave way for more favours.
From the Scripture reading, a leper who had a life-transforming meeting with our Lord Jesus Christ perfectly understood this principle of acknowledging a good deed in order to get more. Rejected by society, he and nine other lepers could not get help and acceptance elsewhere but in Jesus. There was neither Elisha nor Moses around to heal them. But Jesus, who is greater than both Moses and Elisha, was available.
Support the Good work on this Blog Donate in $ God Bless you
[jetpack_subscription_form title="GET FREE UPDDATE VIA EMAIL" subscribe_text="JOIN OTHER CHRISTIANS GET UPDATE BY EMAIL" subscribe_button="Sign Me Up" show_subscribers_total="1"]
Although Jesus asked them to show themselves to the priests to fulfil the Mosaic demand in Leviticus 13:2-6, the Lord was saying in effect that He was the final Priest the lepers had approached for a cure. That was demonstrated beyond doubt when "as they went, they were cleansed" (verse 14).
The central focus of the passage is the returning leper who gave thanks and worshipped the Lord after he had been healed. The others stayed away, content with only one stage of healing. But the grateful leper received four more blessings the other ingrates missed. First, he saw Jesus at close quarters unlike the first time when he "stood afar off" (verse 12). Second, he had the unspeakable joy of worshipping the King of kings and Lord of lords (verse 16). Third, he got commendation from Jesus (verse 18). Finally, the appreciative leper received salutary healing of a unique type.
Thought For The Day: A grateful Christian receives more miracles.
Bible Reading In One Year: 1 Corinthians 9-11