SHILOH 2022 KEY POINT FROM SERMON BY BISHOP DAVID OYEDEPOS ON Fellowship with Gods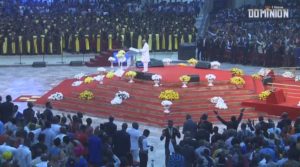 Fellowship imply the gathering of Gods people for purpose of worshiping
Psalm 132:13 For the Lord has chosen Zion for his habitation
When we fellowship the destroyer can't come
What is in Zion?
1. Zion is the spiritual service station of the saints. Zion is were we are cleansed as a car wash. Service station , the church is an ex ray for repair.
2. Is in church we are refueled to remain in motion, Gods power is resident in the church Luke 5:17 the Church is Gods filling station were we refuel to remain in motion.
3. The church is the center for illumination Psalms 73:17 we are enlightened
Support the Good work on this Blog Donate in $ God Bless you
[jetpack_subscription_form title="GET FREE UPDDATE VIA EMAIL" subscribe_text="JOIN OTHER CHRISTIANS GET UPDATE BY EMAIL" subscribe_button="Sign Me Up" show_subscribers_total="1"]
4. The church is the rescue center Obadiah 1:7
5 City of refuge that's Zion
6. The center of empowerment Zephaniah 3:17 Matthew 4:23
7. The church is the birthplace of giants Psalms 87:1
These things are life you can't change them. Don't kick a rock no matter how much of a footballer you are.
Obadiah 1:21