Topic: The Great Advocate
(Open Heaven 6 December 2019)
Memorise: "My little children, these things write I unto you, that ye sin not. And if any man sin, we have an advocate with the Father, Jesus Christ the righteous:" – 1 John 2:1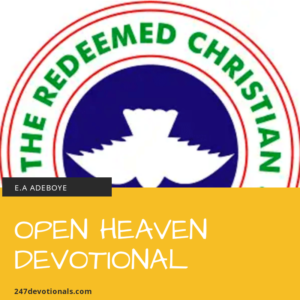 Read: Romans 8:24-27 (KJV)
24 For we are saved by hope: but hope that is seen is not hope: for what a man seeth, why doth he yet hope for?
25 But if we hope for that we see not, then do we with patience wait for it.
26 Likewise the Spirit also helpeth our infirmities: for we know not what we should pray for as we ought: but the Spirit itself maketh intercession for us with groanings which cannot be uttered.
27 And he that searcheth the hearts knoweth what is the mind of the Spirit, because he maketh intercession for the saints according to the will of God.
Bible in One Year: Psalm 81-87, Habakkuk 1:1-2:1
Open Heaven 6 December 2019 Friday MESSAGE:
Self-condemnation is one of the evil arrows in the devil's quiver. It certainly is one of the enemy's weapons of choice deployed in attacking many Christians today. The activity of the kingdom of darkness in this regard takes the form of laying out accusations against the saints of God whenever they err. The enemy also tries to remind us of sins we committed in the past, which we have repented of, suggesting that perhaps God has not forgiven or forgotten them. No wonder the Bible refers to the devil as the accuser of the brethren, saying in Revelation 12:10:
"And I heard a loud voice saying in heaven, Now is come salvation, and strength, and the kingdom of our God, and the power of his Christ: for the accuser of our brethren is cast down, which accused them before our God day and night."
However, our God is always several steps ahead of the enemy's antics, and He has made provision for Jesus Christ to stand as our advocate in heaven's court, pleading our cause and interceding on our behalf whenever the devil presents his accusations against us. The Holy Spirit also intercedes on our behalf whenever we err and our soul is cast down. After convincing us of whatever sins we may have committed, He comforts and encourages us to rise up from the pit of sin and return to our rightful place in the bosom of our loving Father. We need to clarify the fact that remorse for sin is not the same as self-condemnation. Self-condemnation is a very deadly weapon that is effective in taking away the confidence of believers. As a child of God, the lies of the enemy cannot condemn you before God. Even if you fall into sin, you must remember how precious you are to God, who will surely not leave the judgement of His children in Satan's hands.
Support the Good work on this Blog Donate in $ God Bless you
[jetpack_subscription_form title="GET FREE UPDDATE VIA EMAIL" subscribe_text="JOIN OTHER CHRISTIANS GET UPDATE BY EMAIL" subscribe_button="Sign Me Up" show_subscribers_total="1"]
Any time we separate ourselves to focus on God in the place of prayer, the devil is not happy about it. He therefore tries to step in by bombarding our minds with his accusations in order to disrupt and terminate our fellowship with God. He will do anything to keep you from praying, and condemnation is his favorite tactic. Surprisingly, we are also pleased to trash ourselves. Carrying the weight of blame and condemning oneself does not help anyone. The right thing to do is to go to God in prayer, confessing our sins and asking for forgiveness. Be wise, Jesus Christ our Advocate is the only one to consult on issues of sin and forgiveness. As long as you are not a habitual sinner that doesn't take repentance seriously, whenever you approach God in prayers, be confident that the Lord will answer your prayer in Jesus' Name. Have you fallen from grace into sin? Stop condemning yourself today and start talking to your Advocate, Jesus Christ. He will treat your case with tender mercy and ensure that your joy of salvation returns to you.
Open Heaven 6 December 2019 Friday Action Point:
Thank the Lord for the forgiveness of your sins and for His work as your Advocate in heaven's court.
Open Heaven 6 December 2019 Friday Hymn 9: My Faith Looks Up To Thee
1 My faith looks up to Thee,
Thou Lamb of Calvary,
Savior divine!
Now hear me while I pray,
Take all my guilt away,
Oh, let me from this day
Be wholly Thine!
2 May Thy rich grace impart
Strength to my fainting heart,
My zeal inspire!
As Thou hast died for me,
Oh, may my love to Thee
Pure, warm, and changeless be,
A living fire!
3 While life's dark maze I tread,
And griefs around me spread,
Be Thou my guide;
Bid darkness turn to day,
Wipe sorrow's tears away,
Nor let me ever stray
From Thee aside.
4 When ends life's transient dream,
When death's cold, sullen stream
Shall o'er me roll;
Blest Savior, then in love,
Fear and distrust remove;
Oh, bear me safe above,
A ransomed soul!