Topic: Confronting the Confrontation of Your Conviction
[Seeds of Destiny 5 February 2019 Devotional]
SCRIPTURE: That it might be fulfilled which was spoken by Esaias the prophet, saying, Himself took our infirmities, and bare our sicknesses. Matthew 8:17.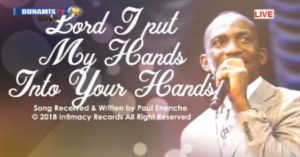 THOUGHT FOR THE DAY: What you do   not confront, you cannot conquer.
It has been confirmed that Revelation is key to possession; light is key to might and flight. What you perceive is what you possess and what you cannot see, you cannot seize. Therefore, light is very important in actualizing destiny.
However, there are confrontations against one's convictions in life; they are things that confront what you believe to be true. When such confrontations arise, what to do is to confront them with God's Word. When you confront them, they would give way for your conviction.
Now, let me give you a practical example: One day, a cousin of Papa Bishop David Oyedepo who is a doctor took his (Papa Oyedepo's) blood pressure, and suddenly screamed at the result saying, 'Aha! Sir, the machine shows that you have hypertension'. However, based on what God previously showed him from Matthew 8:17, he resisted the result vehemently and said, 'No! I don't have hypertension. What has been taken away on the cross cannot be there'. But the doctor said, 'Sir, but the equipment is showing it'. Then Papa replied, 'Well, maybe, it is your blood pressure that is showing on the machine because it is both of us that are touching the machine'. He confronted the confrontation of his conviction by resisting the result of the doctor and that was the end of that hypertension.
Support the Good work on this Blog Donate in $ God Bless you
[jetpack_subscription_form title="GET FREE UPDDATE VIA EMAIL" subscribe_text="JOIN OTHER CHRISTIANS GET UPDATE BY EMAIL" subscribe_button="Sign Me Up" show_subscribers_total="1"]
Beloved, what you do not confront, you cannot conquer. When the devil tries to tell you that what God reveals to you is not true, confront it by a prayer of faith and brutal word-based declaration.
Remember this: What you do not confront, you cannot conquer.
ASSIGNMENTS:
1.Refuse to believe every negative sign and symptom the devil is showing you in any area of your life.
2.Confront every confrontation of your conviction by prayer and brutal word-based declaration.
PRAYER: O Lord, I refuse to accept everything that contradicts Your Word in my life. I confront every confrontation against my conviction in Jesus' Name.