Topic — The Word; An Escape Route From Sin
[Seeds of Destiny 31 July 2019 Devotional] A buoyant spirit will produce a vibrant faith, and a vibrant faith equals a vibrant life
SCRIPTURE: Thy word have I hid in mine heart, that I might not sin against thee. Psalm 119:11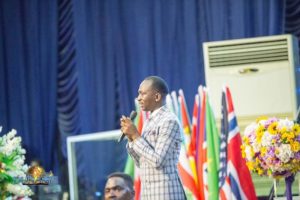 THOUGHT FOR THE DAY: It is not possible to live in the Word and still live in sin.
Sometime ago, a man testified in one of our Church services about a night revelation he had concerning rapture. He said that initially he was raptured but as he was going mid-air, all of a sudden, the wrong thought that was on his mind before he slept sprang up and began to weigh him down. He descended and landed on the ground immediately, and then saw millions of people trooping to hell. He was in regret, but thank God it was a dream.
Many people are too busy with the things of this life. They feed their mind with wrong thoughts and materials but have no time for the Word of God. The truth is, when the Word of God builds your faith, it will also enhance your holiness because it is not possible to live in the Word and still live in sin.
Beloved, if you remember to eat your food, remember to take in the Word of God also. What food is to your body is what the Word of God is to your spirit. Never be too busy for the Word of God. Ensure that the Word of God is entering your spirit on a consistent basis. A buoyant spirit will produce a vibrant faith, and a vibrant faith equals a vibrant life.
Support the Good work on this Blog Donate in $ God Bless you
[jetpack_subscription_form title="GET FREE UPDDATE VIA EMAIL" subscribe_text="JOIN OTHER CHRISTIANS GET UPDATE BY EMAIL" subscribe_button="Sign Me Up" show_subscribers_total="1"]
Remember this: It is not possible to live in the Word and still live in sin.
ASSIGNMENTS:
Put the reading and studying of the Word of God into your daily schedule.
Consciously allow the word to shape your life and thought.
PRAYER: O LORD, I receive the grace to guard my heart against sinful materials. Let Your Word saturate my heart so I can live for You, O LORD, in Jesus' Name.