Open Heaven For Teens 1 February 2023 – Be Accountable
TOPIC: Be Accountable [Open Heaven for Teens 1 February 2023]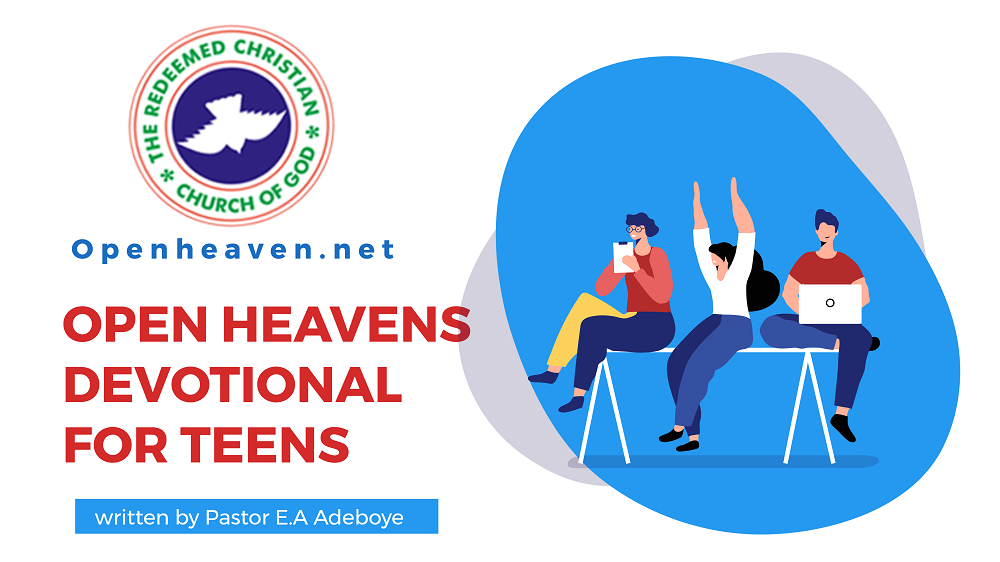 MEMORISE: Moreover it is required in stewards, that a man be found faithful. 1 Corinthians 4:2
Also Read: Open Heaven 1 February 2023 – Watch That Intimacy I
READ: Matthew 12:36-37
36 But I say unto you, That every idle word that men shall speak, they shall give account thereof in the day of judgment.
37 For by thy words thou shalt be justified, and by thy words thou shalt be condemned.
Support the Good work on this Blog Donate in $ God Bless you
[jetpack_subscription_form title="GET FREE UPDDATE VIA EMAIL" subscribe_text="JOIN OTHER CHRISTIANS GET UPDATE BY EMAIL" subscribe_button="Sign Me Up" show_subscribers_total="1"]
MESSAGE: Open Heaven For Teens 1 February 2023
To be accountable is to be responsible for your actions. For example, when I was a young Christian, there were some things I didn't do right, so whenever I realised I was wrong. I would go to my Father-in-the-Lord of blessed memory to explain everything to him, and he would correct and instruct me as a disciple of Christ.
These days, I see young Christians behaving as they wish without having a Christian friend they are accountable to – someone who can scold or encourage them when they misbehave or do well. This is necessary to remain on the right track to heaven. You should not only be accountable to God but to people also because it will boost your spiritual growth.
Also, being accountable to a fellow Christian will put your actions in check because you will either be corrected or commended for whatever you do. Ask the Holy Spirit to direct you to someone you can be accountable to today.
PRAYER POINT
Are you accountable to anyone?
BIBLE IN ONE YEAR: Leviticus 14-15
HYMN 7 – Just As I Am, Without One Plea
Just as I am, without one plea,
But that Thy blood was shed for me
And that Thou bidst me come to Thee,
Oh Lamb of God I come, I come.
Just as I am, and waiting not
To rid my soul of one dark blot
To Thee, whose blood can cleanse each spot
Oh Lamb of God I come, I come.
Just as I am though tossed about,
With many a conflict, many a doubt,
Fighting's and fears within, without,
Oh Lamb of God I come, I come.
Just as I am poor, wretched, blind,
Sight, riches, healing of the mind
Yea, all I need, in Thee to find
Oh Lamb of God I come, I come.
Just as I am, Thou wilt receive,
Wilt welcome, pardon, cleanse, relieve,
Because Thy promise I believe
Oh Lamb of God I come, I come.
Just as I am Thy love unknown
Has broken every barrier down;
Now to be Thine, yea Thine alone,
Oh Lamb of God I come, I come.
Just as I am, of that free love
The breadth, length, depth and
height to prove,
Here for a season, then above,
Oh Lamb of God I come, I come.
Daily Devotional for Teen's guide was written by Pastor E.A. Adeboye, the General Overseer of the Redeemed Christian Church of God, one of the largest evangelical church in the world and also the President of Christ the Redeemer's Ministries.