Open Heavens 11th March 2018 Sunday by Pastor Adeboye
Topic: Getting Answers Through Worship [Open Heavens 11 Sunday March 2018]
Memorise: "And whatsoever ye shall ask in my name, that will I do, that the Father may be glorified in the Son." – John 14:13
Read: 1 Kings 18:36-39 (KJV) Open Heavens 11th March 2018 Sunday by Pastor Adeboye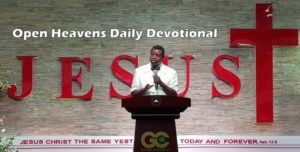 36 And it came to pass at the time of the offering of the evening sacrifice, that Elijah the prophet came near, and said, LORD God of Abraham, Isaac, and of Israel, let it be known this day that thou art God in Israel, and that I am thy servant, and that I have done all these things at thy word.
37 Hear me, O LORD, hear me, that this people may know that thou art the LORD God, and that thou hast turned their heart back again.
38 Then the fire of the LORD fell, and consumed the burnt sacrifice, and the wood, and the stones, and the dust, and licked up the water that was in the trench.
39 And when all the people saw it, they fell on their faces: and they said, The LORD, he is the God; the LORD, he is the God.
Bible in One Year: Number 22, 2 Corinthians 8
MESSAGE:- Open Heavens 11th March 2018 Sunday by Pastor Adeboye
Without controversy, my God is indeed a prayer-answering God. In my life, He has proven Himself to be a prayer-answering God over and over again. Not only does he answer prayers, he can also answer them instantly. If there is any example of prayer that was answered instantly, it is the prayer of Elijah, which brought down fire of God in today's Bible reading. In the Name that is above every other name, God will answer your prayers by fire today. Elijah is one of my favorite characters in the Bible, and I spent three years studying him. I observed something very, very, significant about him: he was a prayer warrior (James 5:17-18). He is one of the reasons why I pray so much. I spent quality time studying his prayer in 1 Kings 18:36-37, and I would like to share with you some of what the Holy Spirit taught me.
Support the Good work on this Blog Donate in $ God Bless you
[jetpack_subscription_form title="GET FREE UPDDATE VIA EMAIL" subscribe_text="JOIN OTHER CHRISTIANS GET UPDATE BY EMAIL" subscribe_button="Sign Me Up" show_subscribers_total="1"]
You will observe that Elijah started this prayer by calling on the Lord God of Abraham, Isaac and Jacob. What is the significance of this? He was first worshipping God by eulogizing Him. When you go through the scriptures, all those who worshipped God got their request granted. You will never find a single example of someone who worshipped God in spirit and in truth who did not get his or her request granted. Matthew 8:1-3 tells the story of a leper who was granted his request. This is someone who had an incurable disease; someone who was not supposed to be found among the multitude. He came to Jesus and the first thing he did was to worship Him. He worshipped Him before he said "I know you can heal me if you want to." Of course, he had already prepared the ground for his request to be granted. Jesus had no choice but to say "I am willing, be thou cleansed."
Open Heavens 11th March 2018 Sunday by Pastor Adeboye
A similar story is found in Mark 5:1-15. It is the story of the mad man of Gadara, who when he saw Jesus from a far off, ran to meet Him and fell at His feet. Remember he was a mad, but even in his madness, he was still able to worship God. If a mad man could worship God, what is your excuse for not worshipping Him? Read the story very well, he did not even pray to be delivered, but God delivered him all the same. Furthermore, in Mark 5:21-24, how did Jairus get his daughter restored to life? He worshipped Jesus! Even though he was a great man, in the presence of Jesus, he considered his status to be of no significance. This is why I feel uncomfortable when I see some so called "great men" who cannot worship God. Whenever we are praising God and we are dancing and rejoicing, I see some people who feel they are too big to worship the King of kings. This is rather unfortunate because there is no one like God. He is greater than the greatest, higher than the highest, older than the oldest, richer than the richest, and He is better than the best. Worship your way into victory today!
Action Point: Worship God by eulogizing Him with His attributes you know. Read Isaiah 40:22-25 to aid you. Open Heavens 11th March 2018 Sunday by Pastor Adeboye
"If you missed yesterday devotional, click to read Open Heavens 10 March 2018 Saturday — Holiness Made Simple"
Hymn 1: Now Thank We All Our God.
1. Now thank we all our God, with heart and hands and voices,
Who wondrous things has done, in Whom this world rejoices;
Who from our mothers' arms has blessed us on our way
With countless gifts of love, and still is ours today.
2. Oh, may this bounteous God through all our life be near us,
With ever joyful hearts and blessed peace to cheer us;
And keep us in His grace, and guide us when perplexed;
And guard us through all ills in this world, till the next!
3. All praise and thanks to God the Father now be given,
The Son, and Him Who reigns with Them in highest Heaven—
The one eternal God, Whom earth and Heav'n adore;
For thus it was, is now, and shall be evermore.
Open Heavens Daily Devotional guide was written by Pastor E.A. Adeboye, the General Overseer of the Redeemed Christian Church of God, one of the largest evangelical church in the world and also the President of Christ the Redeemer's Ministries. The Open Heavens devotional application is available across all mobile platforms and operating systems: iOS, Android, Blackberry, Nokia, Windows Mobile and PC.
Open Heavens 11th March 2018 Sunday by Pastor Adeboye