Omni Download Mp3 + Lyrics
Ommoh Ge (New Song) Omni Download Mp3 + Lyrics
Ommoh Ge, Award-winning artist releases a new perspective of God, she called this 'OMNI' with much radiant of God. Omni is a declaration of God's sovereignty, the Omni …., He is the Omni what you call Him. The song OMNI was received as a deep insight of who God is; in diverse ways of her walking with God as a worshiper. Omni Download Mp3 + Lyrics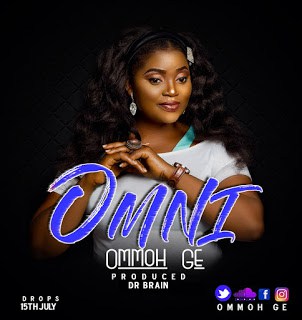 Se said, take a little time out from your vast array of work activities and life challenges and just worship the OMNI OMNI. Her perspective of God highlights God with so much luminous fierce vocals of the OMNI God himself.
Click To Download Mp3 File Size: 4.8
Omni Download Mp3 + Lyrics
LYRICS: by Ommoh Ge
[Chorus]
Omni Omni
Your voice sounds like thunder
You made the cloud your Chariot
Your eyes are flames of fire (2x)
[Solo 1]
Your face shines like the sun
unstoppable un-fightable unbeatable God
uncreated creator God
You have no predecessor nor successor
The youngest old man
You're alpha and omega
You never lost a battle
Odogu akataka
Elelelele
[Solo 2]
Omni-parents God
Na you be the father of the whole world
Support the Good work on this Blog Donate in $ God Bless you
[jetpack_subscription_form title="GET FREE UPDDATE VIA EMAIL" subscribe_text="JOIN OTHER CHRISTIANS GET UPDATE BY EMAIL" subscribe_button="Sign Me Up" show_subscribers_total="1"]
Omni-potent God
Na you be the powerful God
Omni-presence God
You are everywhere at the same time
Omni-ficent God
You are unlimited in creative powers owowowowo
Omni-package God
You have the ability to re-package our lives
Omni-directional
You give specific directions to your Children
Omni-bus-stop God
Na you they take us to our destination
Omni-strategist na you they give idea to Success
Vamp
[Repeat Chorus]
Omni-competent God you are
You are God all by yourself self self self self
Omni-packaged God
Omni-brancher
Omni-giver
Onmi-fighter
Omni-competent God God
That is who you are.
[END]