Topic:No More Surprises
Kenneth Copeland
But God hath revealed them unto us by his Spirit: for the Spirit searcheth all things, yea, the deep things of God.
1 Corinthians 2-10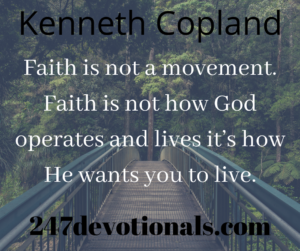 God is not full of surprises. He's not an unpredictable being who likes to keep you guessing. Countless believers, however, have the idea He is.
"You just never know what God is going to do," they say. They base that idea on 1 Corinthians 2:9 which says, "Eye hath not seen, nor ear heard, neither have entered into the heart of man, the things which God hath prepared for them that love him." They interpret that scripture to mean that God is keeping secrets from His people.
But, praise God, He isn't!
In fact, verse 10 says He's given us His Spirit to reveal those secrets to us! He desires for us to know everything that's on His heart.
If you're in the dark about God's will for you, you don't have to stay that way. He wants you to know about His plans and provisions for your life. He'll show them to you if you'll let Him.
Support the Good work on this Blog Donate in $ God Bless you
[jetpack_subscription_form title="GET FREE UPDDATE VIA EMAIL" subscribe_text="JOIN OTHER CHRISTIANS GET UPDATE BY EMAIL" subscribe_button="Sign Me Up" show_subscribers_total="1"]
So, don't depend on guesswork. Determine today that you're going to start receiving that revelation from the Holy Spirit. As you read the Word, pray in the spirit and ask Him to reveal to you the reality of the Scriptures. Ask Him to shed His light on them and show you exactly how they apply to you.
Remember: God isn't in the business of keeping secrets from you. He's in the business of revealing them. Take time to listen to Him and you'll never have to settle for a life of uncertainty again.
Scripture Reading:
1 Corinthians 2:1-16