Topic:Not of This World
Gloria Copeland
Whatever is born of God is victorious over the world; and this is the victory that conquers the world, even our faith.
1 John 5:4, The Amplified Bible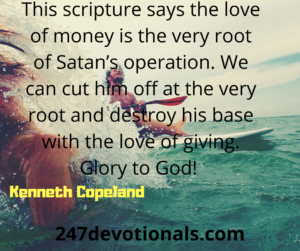 Years ago the devil started a rumor. He told a few Christians that as long as they lived in the world, they had to suffer as the world did. He told them they had to share the diseases and the defeat, the poverty and the failure of those around them.
It was a crafty lie—and it worked. Believers accepted it and began to spread it among themselves. You may have even heard it yourself. If so, I want to help you put that rumor to rest today. I want to help you get the facts straight once and for all.
You see, despite what you may have heard, health, prosperity and victorious living aren't concepts some comfort-hungry believer selfishly dreamed up. They are God's ideas.
You may say, "That sounds good, Gloria, but we've got to be realistic. We live in a world that's full of problems. And as long as we live in this world, it seems to me we're going to have our share."
Yes, that's true. Even Jesus said, "In the world you have tribulation and trials and distress and frustration." But notice, He didn't stop there! He went on to say, "But be of good cheer [take courage; be confident, certain, undaunted]! For I have overcome the world. [I have deprived it of power to harm you and have conquered it for you]" (John 16:33, The Amplified Bible).
Most believers don't have any trouble believing the first part of that verse. They know all too well how many tribulations, trials, distresses and frustrations surround them. But they're less certain about the last part. They haven't yet experienced for themselves exactly what Jesus meant when He said He had deprived those things of power to harm them.
Support the Good work on this Blog Donate in $ God Bless you
[jetpack_subscription_form title="GET FREE UPDDATE VIA EMAIL" subscribe_text="JOIN OTHER CHRISTIANS GET UPDATE BY EMAIL" subscribe_button="Sign Me Up" show_subscribers_total="1"]
Why not?
Because they're still living as though they're part of the world.
But, listen. Jesus said you and I are to be "sanctified," or separated from the evils of this world. How? Through the Word of God (John 17:17)!
The Word of God will separate you from the world. His Word will set His dream for victory into motion in your life. If you'll receive it and believe it, speak it and act on it, that Word will set you apart from those around you. It will take you from trouble to triumph again and again.
Scripture Reading:
John 17:1-17