Topic: Who Has The Final Say?
[DCLM Daily Manna 27 April 2019 Daily Devotional by Pastor William Folorunso Kumuyi] Text: Jeremiah 20:1-6 (KJV)
Key Verse: "For thus saith the LORD, Behold, I will make thee a terror to thyself, and to all thy friends: and they shall fall by the sword of their enemies, and thine eyes shall behold it: and I will give all Judah into the hand of the king of Babylon, and he shall carry them captive into Babylon, and shall slay them with the sword" (Jeremiah 20:4).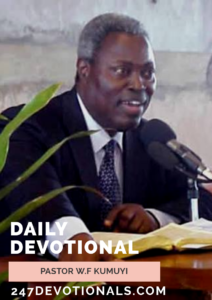 MESSAGE:
Emperor Nero carried out the first persecution of Christians in Rome in AD 67. He gave vent to atrocious barbarities. He arranged the burning of large portions of Rome and several thousands of lives perished in the flames. Nero finding that his conduct was greatly censured and severe odium cast upon him, determined to lay the whole blame upon the Christians. He designed cruel methods of annihilating Christians among who were Paul, Peter, Erastus, Aristarchus, Trophimus and countless others. Nero even designed new means of cruelty and contrived all manner of punishments for the Christians that the most infernal imagination could think of. This persecution was general throughout the whole Roman Empire; but it rather increased than diminished Christianity. His five-year reign was suddenly terminated and he became the first Emperor of Rome to commit suicide!
Pashur, the priest who was also the Chief Governor in the house of the Lord, seriously persecuted Prophet Jeremiah. Not only did he incarcerate Jeremiah, he also put him in stocks like a common criminal. This did not shut the mouth of Jeremiah. Rather, the Lord God, through him prophesied the gruesome end that awaited the treacherous and lying Pashur.
People often recline on their power and privileged position to vex the righteous and persecute them because of their just stand. They may threaten, molest, afflict and oppress the righteous and for a moment, they may seem to have the upper hand. But God has the final say. He will not only defend His saint but will also curtail the oppressor.
Support the Good work on this Blog Donate in $ God Bless you
[jetpack_subscription_form title="GET FREE UPDDATE VIA EMAIL" subscribe_text="JOIN OTHER CHRISTIANS GET UPDATE BY EMAIL" subscribe_button="Sign Me Up" show_subscribers_total="1"]
We should check our actions and avoid anything that might amount to persecuting a righteous person for God is his avenger. If we are being persecuted, let us not despair, renege or foolishly charge our God, for He "will come with vengeance, even God with a recompense; he will come and save you" (Isaiah 35:4).
Thought For The Day: Night does not last forever; a bright day will ultimately come!
The Bible In One Year: Joshua 5-7