Topic: Deliverance from Defilement [DCLM Daily Manna 22 April 2019 Daily Devotional by Pastor William Folorunso Kumuyi]
View Previous MESSAGES by Pastor Kumuyi
Text: Leviticus 14:10-20? (KJV)
Key Verse: "And the priest that maketh him clean shall present the man that is to be made clean, and those things, before the LORD, at the door of the tabernacle of the congregation" (Leviticus 14:11).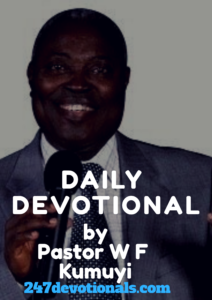 MESSAGE:
God's first reaction to sin, iniquity, unrighteousness or defilement is not instantaneous judgment. He offers ways out through systematic cleansing and deliverance from sin.
Support the Good work on this Blog Donate in $ God Bless you
[jetpack_subscription_form title="GET FREE UPDDATE VIA EMAIL" subscribe_text="JOIN OTHER CHRISTIANS GET UPDATE BY EMAIL" subscribe_button="Sign Me Up" show_subscribers_total="1"]
The passage spells out the steps that the priest was expected to take to cleanse a defiled person. Among other things, the priest was expected to take two lambs without blemish, an ewe lamb of one year without blemish and other listed materials. The priest was then expected to present him that was about to be made clean before the Lord. All the steps are towards one goal: to "make atonement" for the defiled so that "he shall be clean". Some major things are to be noted from the passage: First, a defiled person must be willing to be made clean; second, there is a priest who is to facilitate the cleansing; third, the materials to be used for the cleansing; fourth, the activities towards the cleansing and finally, God, who approves the cleansing.
Sin defiles and stinks before the Lord. Whatever the type of sin, God cannot condone it. In His graciousness, He has made provision for the cleansing of all forms of defilements through the vicarious death of the Lamb of God (Jesus).
There are major points to note in today's passage. The priest (preacher/evangelist) has a part to play in bringing the defiled before the Lord. The power of the blood of the Lamb cleanses all defilement. The defiled has to surrender himself for the exercise to be complete. All sins committed can be cleansed today, if the defiled is willing to repent and continue in the faith.
Thought For The Day: Redemption purchases cleansing from sin.
The Bible In One Year: Romans 4-6
DCLM Daily Manna was written by Pastor William Folorunso Kumuyi; is the founder and General Superintendent of the Deeper Life Bible Church situated at KM 42 on the busy Lagos-Ibadan Expressway, Nigeria.