Topic: Lesson through Despair
[DCLM Daily Manna 21 May 2019 Daily Devotional by Pastor William Folorunso Kumuyi] Text: 1 Kings 19:9-21 (KJV)
Key Verse: "And he came thither unto a cave, and lodged there; and, behold, the word of the LORD came to him, and he said unto him, What doest thou here, Elijah?"(1 Kings 19:9).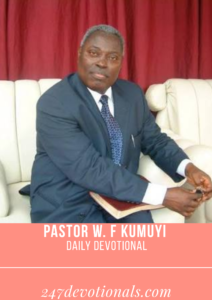 MESSAGE:
It is called "depression" – a feeling of hopelessness, despondency and apathy; a psychological state that hardly discriminates. It happens to cowards as well as to the brave. Indeed, history is replete with accounts of very courageous men who, in their privacy, succumbed to depression and discouragement.
It is quite instructive that Elijah, the great prophet of God, also had this experience. In the text, we find him seek lodging in a cave out of despondency. In this case, he was "very jealous for the LORD God of hosts", whose covenant the children of Israel had forsaken. He felt threatened and lonely in the path of righteousness and hid himself. But the Lord visited him right there. That encounter holds so much lessons for us.
That God asked Elijah, 'What doest thou here?' indicates that the self-appointed retreat was unnecessary. It however shows that Elijah was really a man subject to like passions as we are not super human. He learnt from his ministry, how God can use the weak vessels like us to achiever supernatural acts. But God chose to deal with Elijah on the mountain, not in the cave. God's speech to Elijah was preceded by a strong wind, earthquake and fire. These elements were awe-inspiring, but the Lord was in none of them. Instead, He spoke to Elijah in a still small voice. We must be careful to heed God's voice.
Support the Good work on this Blog Donate in $ God Bless you
[jetpack_subscription_form title="GET FREE UPDDATE VIA EMAIL" subscribe_text="JOIN OTHER CHRISTIANS GET UPDATE BY EMAIL" subscribe_button="Sign Me Up" show_subscribers_total="1"]
God did not only direct Elijah as to how to tackle the apostasy of Israel, but also assured him that contrary to his assumption, there were seven thousand people in Israel who had not bowed down to Baal. Never feel that you are the only righteous one around. God certainly has other undefiled people. Also observe in the appointment of Elisha how prompt and consecrated we ought to be in response to God's demand on us.
Thought For The Day: When discouragement sets in, listen well for God's still small voice.
The Bible In One Year: 1 Samuel 1-2