Topic: What You Hear Affects You
[DCLM Daily Manna 18th August 2018 Daily Devotional] Text: 1 Samuel 21:10-15 (KJV)
Key Verse: "And David laid up these words in his heart, and was sore afraid of Achish the king of Gath. And he changed his behaviour before them, and feigned himself mad in their hands, and scrabbled on the doors of the gate, and let his spittle fall down upon his beard" (1 SAMUEL 21:12,13).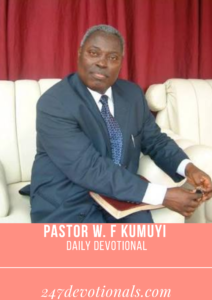 MESSAGE:
Some time ago, a woman went to a doctor to check up what was wrong with her. During the diagnosis, the doctor described the ailment using an uncommon medical term. Obviously, she was ignorant of what the term meant and became hypertensive. Her condition grew worse from other complications and within a short time, she died. On examination, other medical experts discovered that the original ailment was one that could have been treated. Most medical terms are in Latin or Greek. For instance, a Latin name for headache in medicine is "cephalalgia". Now, the woman died of what she heard and thought was a serious disease.
What we hear affects us greatly. What David heard and laid in his heart made him play a mad man. This was David who killed the warlord of the Philistines with just a sling and great faith in the God of Israel. But on this occasion, he was paralysed by the statements of mere servants. Words are like softwares; they run the entire system of man.
Support the Good work on this Blog Donate in $ God Bless you
[jetpack_subscription_form title="GET FREE UPDDATE VIA EMAIL" subscribe_text="JOIN OTHER CHRISTIANS GET UPDATE BY EMAIL" subscribe_button="Sign Me Up" show_subscribers_total="1"]
Our faith vanishes when we allow fear to becloud our heart. Fear starts with self-talk. David said to himself, "I shall now perish one day by the hand of Saul" (1 Samuel 27:1). This led him to flee to the land of the Philistines. Whenever fear motivates, even great people become feeble. Like David, Elijah fled for his life because he heard the threatenings of Jezebel.
As you go out today, watch what you hear. Guide and guard your heart with the brazen coat of God's word and don't allow fear to influence you in any way. No one can stop a man who has a programme with God.
Thought For The Day: Whenever fear knocks, answer with faith.
Bible Reading In One Year: Jeremiah 38-40; Psalms 74; 79