Topic: In Your Interest
[DCLM Daily Manna 18 January 2019 Daily Devotional by Pastor William Folorunso Kumuyi] Text: Proverbs 9:11-18 (KJV)
Key Verse: "If thou be wise, thou shalt be wise for thyself: but if thou scornest, thou alone shalt bear it" (Proverbs 9:12).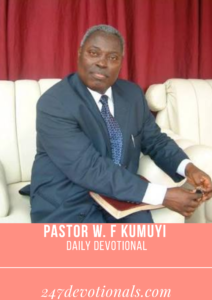 MESSAGE:
It is the punishment placed on offenders of our laws that help to abate, to a great extent, the spate of crime and civil disorders in our society. Generally speaking, a sinner deceives himself by thinking that obeying God's word or respecting civil government is doing favour to God or to society. He counts it a loss to himself not to indulge in fleshly sin. He takes sin as sport sometimes, thinking he can have the pleasure of sin and avoid the consequences.
Man is the ultimate sufferer of the products of his sin. In fact, the consequences of his sin may truly affect fellow men, but the greater effects are reaped by him. Living out the Word for others to see may bring about changes in the lives of others, but in the final analysis, the doer reaps the blessing. In the same vein, if we continue to live in sin, we behave unwisely and will reap sickness, and eternal death but righteousness and holy living will prolong our lives and help us stand before the Son of man.
Support the Good work on this Blog Donate in $ God Bless you
[jetpack_subscription_form title="GET FREE UPDDATE VIA EMAIL" subscribe_text="JOIN OTHER CHRISTIANS GET UPDATE BY EMAIL" subscribe_button="Sign Me Up" show_subscribers_total="1"]
Sin attracts punishment and ruin, but holiness and virtuous living have the promise of life and health. Without any doubt, it is in the best interest of man to stop sinning and live a life that is glorifying God.
Sin is enticing and its effects are devastating. One sin leads to another until the sinner is almost inextricably entwined. Consider the consequences of sin today and deliver your soul like a deer escaping the hunter's hound. Wisdom demands that you confess your sin now and surrender your life to Jesus. He will have mercy on you.
Thought For The Day: It is wisdom to shun sin like the proverbial plague.
Bible Reading In One Year: Exodus 5-7